After an Americana love festival on Saturday, the true bluegrassers came out to play on Sunday. No this wasn't Fresh Grass but it did share Sierra Hull and Festy hosts and curators Infamous Stringdusters.
The day started with newly crowned IBMA award winning mandolin player of the year/singer-songwriter Sierra Hull. I'd seen her previously with a more traditional bluegrass band. In her new format, most of the songs sounded much more sparse. Hull's bluegrass numbers brought the crowd to life and her prowess on the instrument is unmatched. The more sparse songs sounded just like that. Hull's taken a brave step forward from the traditional bluegrass world. Her voice is now much more on display and the sparse crowd was in for a treat.
When the hosts came out for their long set, the hippies came out of nowhere. All of a sudden what felt like a forgotten festival, quickly turned into a microcosm of 60s-style jam music. The Infamous Stringdusters moved easily from tune to tune, singer to singer, and brought the crowd to the feet. Fiddle player and vocalist Jeremy Garrett led the way with earnest vocals fit so well in the bluegrass genre. Andy Hall's dobro brought the tunes together.
Local favorite Session Americana was another secret that was let out. The band merges many different Americana elements. The band has turned more to an electric/acoustic band. The fiddles are gone but Jefferson Hamer has the band going in this direction (sans fiddle). Harmonica player Jim Fitting and multi-instrumentalist Dinty Child give the band a very unique sound but they're definitely more on the rocking side. That said, they're also a fun show and this set was no different. Audience members were new but Session made them feel at home.
With a lineup and fun on the side, I'll be sure to be back next year. Even the little guy had fun stuff to do. While I did enjoy the Life is Good Festival a few years back, Festy has better music, lots of fun stuff to do, and dare I say it, a better vibe!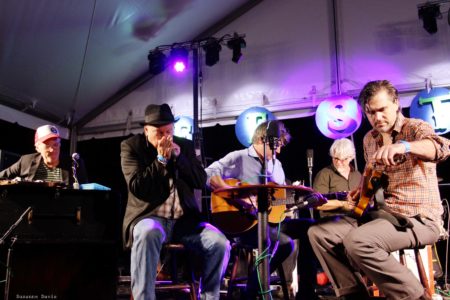 All photos by Suzanne McMahon
---
About the author:
Jeff is a teacher in the Boston area. When not buried correcting papers, Jeff can be found plucking various stringed instruments and listening to all types of americana music.
---