For years the description of Big 10 football was "3 yards and a cloud of dust".  It was straight-ahead, grind-it-out, pigskin football.  Fans in the upper Midwest were proud of their brand of ball, even while the sophisticates on either coast snickered, and it started to reflect not just a sports mentality, but a general outlook.  For music fans it morphed into "3 chords and a cloud of dust", perhaps best epitomized by Detroit guitarist Scott Morgan.  On hearing the latest album from Providence-based, The Silks, I think they're trying to claim the crown.

About half the album is pure straight-ahead rock and roll.  Live And Learn celebrates advice from Nana and urges you to let your freak flag fly.  Get Up And Get Free is anthemic, in all the right ways.  It's not bad played at 7, better at 9, and best when the volume is at 11. Rollin' Wheel is a little more rollicking and espouses one of the great philosophies of rock 'n' roll–throwing away the rearview mirror.
The boys from Rhode Island can add some texture to their rock, too.  Home Again is a little bit swampy and delivers a more southern rock sound.  Take Me To Town adds some twangy notes, while Blue includes a nice harp to give it the namesake feel.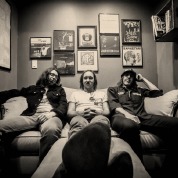 Band songwriter Tyler-James Kelly writes in the liner notes that All Day is about a work ethic (as I was saying earlier…) and a comment about bands who aren't really serious about their craft.  He finishes the comment by noting how much fun they have even practicing.  That love of the music comes through in every song of Turn Me On, so check it out.
---
About the author:
I've actually driven from Tehatchapee to Tonopah. And I've seen Dallas from a DC-9 at night.
---