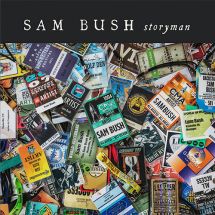 It is fitting that Sam Bush is releasing his new album on the heels of The Telluride Bluegrass Festival. After all he has ruled the festival for most of its existence. Seeing him there was an experience that allowed me to cross at least one item off my bucket list. His new release, "Storyman", has the all the trappings of a Sam Bush album. The Mandolin master delvers the Newgrass sound he is so well known for, but he provides a few twists. Bush has always incorporated multiple genres into his songs and continues to do so on this album. However, "Storyman" delivers some tunes that put Country a little more in the foreground than usual. Perhaps this is because of the biographical nature of some the songs. Raised on a farm in Kentucky one would expect that musical influences from his youth would tend to bubble up to the top. Lyrically Bush also takes some risks on this project. There is an overtly positive and hopeful tone to the lyrics on almost all of these songs. After all serious songwriters are not supposed to be this happy. As a point of clarification, he does not come across like some late night infomercial trying to sell motivational products, but therein lies the risk. Telling stories with happy endings and acknowledging that hope is not an illusion could have come across as superficial in the hands of some, but the opposite is true on "Storyman".
"Carcinoma Blues" co-written with Guy Clark, embodies the ethos of the album. It is a well-known fact that cancer touched both of their lives and the song is able to take on the subject in an almost optimistic and playful way. Other co-writers such as Alison Krauss, Emmylou Harris, Jeff Black and Deborah Holland pen songs with Bush. Krauss, Harris and Holland also contribute backing vocals. A personal favorite is the song "Hand Mics Killed Country Music", on which Emmylou Harris sings backup. This tongue in cheek jab at the Nashville establishment delivers humor with its sarcasm. It is also telling the truth. In fact, if the hand mic killed Country, then the headset mic buried it. (Thank you Garth Brooks.) "Transcendental Meditation Blues" recounts a long bus trip to see girl. "You must be in love to ride a Greyhound Bus". As it turns out he was. The girl in the song is his wife of many years.
Sam Bush's band, the core of which has been with for many years, shines as usual. In the end though it is all about that Mandolin, which is as distinctive as ever. Bush is still a master and shows no signs of slowing down. His energy and passion drive his craftsmanship. Sam Bush has fun playing music. That is what truly creates such a loyal following. Yes, he is a technician of his craft and one of the best mandolin players on this or any other planet. Nevertheless, it is the good times he provides his fans that always rule the day at any music festival he plays.
---
About the author:
Chip and his family live in Birmingham, AL. Roll Tide!
---