Somewhere along the way, we seem to have lost an important component of American music.  In the 70's, as solo artists, Joni Mitchell and Carol King defined popular music every bit as much as Zeppelin or the Stones.  Fast forward a couple of decades and Sarah McLachlan and Jewel were the flag-bearers.  Nowadays, Shawn Colvin is touring with Steve Earle and Allison Moorer is singing with Hayes Carll.  If you want to get back to a lost genre, you have no further to look than the latest record from Elizabeth Wills, Every Little Star.
This is pure American folk music.  It's love songs and remembrances of good people and enjoyable times.  My Backyard has a snappy drum beat and goes to the core of being young in suburban and rural America.  Spinning Circle could be a fine bluegrass tune, but the Irish whistle and bouncy rhythm turns it into a fun jig.
My favorite two songs on the album both have a bluesy tinge to them.  Long Road Home sounds instantly familiar and producer Mark Hallman's turn on the B-3 gives it a nice character all its own.  Coming Around is a little slower on the tempo, but really nails the blues perspective when Wills sings "sometimes I've done nothing to bring on the rain."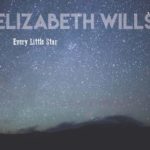 Elizabeth Wills has such a beautiful voice I'm sure she could sing any style she pleases.  She's decided to apply her talents to folk and the unadorned nature of that music just emphasizes her artistry and skill. If you're looking for some party music, keep moving along.  But if you're ready to be embraced with vocal warmth and beauty, Every Little Star is just the ticket.
---
About the author:
I've actually driven from Tehatchapee to Tonopah. And I've seen Dallas from a DC-9 at night.
---