As we get ready to ring in the new year, I'm going to make a confession: I haven't listened to much new music this year. With a son who just turned one, a broken leg, and the usual stacks of correcting (I'm an English teacher), I haven't listened to much new stuff. The Mrs. and I have made it to relatively few shows and had to reduce our normal music listening time to quiet moments in the car. So my Winter Break really was a stellar opportunity to catch up. And I also admit it: I scanned through lots of other best of lists to see what I've missed over the course of the year. I didn't miss Jason Isbell's solid effort "Something More than Free." I also certainly didn't miss Josh Ritter's upbeat and irresistable "Sermon on the Rocks." But I did miss my undoubted number one album of the year "Carrie & Lowell" by Sufjan Stevens.
Album of the Year: Sufjan Stevens – "Carrie & Lowell"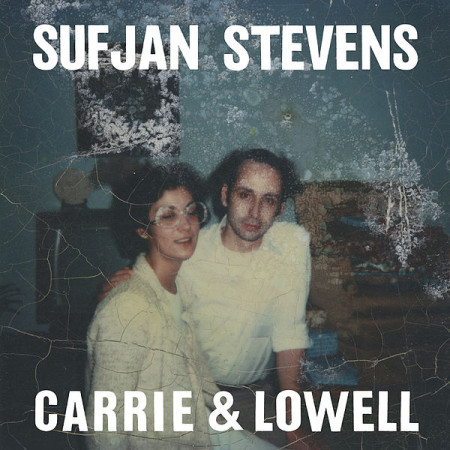 After hearing Illinois in 2005, I was hooked. Yeah he had some strange instrumentals back then and was a bit lush for my normally Americana bent, but Sufjan opened me up to the more orchestral side of pop. His songs were simple, lyrically poetic, and very catchy. But they never seemed to have any real personal connection to the singer/songwriter himself. He just seemed like a happy go-lucky guy who wrote historical short stories to music with brilliant arrangements. No big deal. He'd just pop out another 48 of them and call it a career. But of course, no other states followed. I loved his material so much that I wrote to his label back in 2010 talking about how his music was so affecting and I just wanted him to make a record about whatever he wanted. I remembered him when I listened to his Christmas box set on December 25th at my house and otherwise I lost track of him.
Scanning through the lists, I found his new record repeated over and over. I dug into it and I couldn't believe that not only had Sufjan written a new record, it was folky and completely personal. It told the story of his troubled mother and her death. It delved deeply into his desire to come to terms with missing her and his own struggles with substance abuse. I was already very interested considering that loss makes most of the best art possible.
Few times have I listened to an album straight through when I hear it the first time (maybe 3 in my lifetime). This was one of those times. The beautifully understated strings and harmonies accentuate light fingerpicking and Sufjan's almost whispered vocals. The lyrics turn a phrase like only Sufjan can. He includes specific poetic details of his life and loss.  The album removes lots of the lush instrumental material in favor of the personal singer/songwriter side.
On the second track, "Should Have Known Better," Stevens pulls no punches when he describes his mother: "When I was three, three maybe four, she left us at that video store." Upon further inspection, turns out that Carrie struggled with drug addiction and schizophrenia. Stevens spent summers with her in Oregon. But his sense of loss and wanting to be close to his mother is palpable throughout the album and specifically on this track. About 2/3 of the way through the song, the tempo and instruments change and I had that goosebump moment. In the final section, Sufjan repeats a realization: "The past is still the past, a bridge to nowhere." Stevens seemed to be coming out of the mire of memory. The most powerful moment in the song for me comes when Stevens talks about new life replacing the death of his mother. "My brother had a daughter, the beauty that she brings, illumination." My own son and his joy made me relate to how Stevens finds hope in the renewal of new life.  The songs emotional swings seem incredibly moving and accessible. The sweet only comes with the sour here. It feels deeply cathartic.
Another beautiful track on the record is "The Only Thing." The lyrics are cyclical in nature also. Sufjan talks about his self-destructive behavior (which somehow matches his mother's and was new for him) and his deep longing to be with his always absent mother. "Should I tear my eyes out now? / Everything I see returns to you somehow / Should I tear my heart out now? / Everything I feel returns to you somehow." The memories of his mother torment him yet he still maintains, "I wanna feel your touch." The ambivalence of Sufjan's loss is profoundly moving and deeply affecting. His absent mother still pulls at him.
In an interview with Pitchfork last February, Stevens offers, "But I say make amends while you can: Take every opportunity to reconcile with those you love or those who've hurt you. It was in our best interest for our mother to abandon us. God bless her for doing that and knowing what she wasn't capable of." It's certainly a much deeper emotional vulnerability than his most famous work and is so personal. He also explained to pitchfork, "It's not really trying to say anything new, or prove anything, or innovate. It feels artless, which is a good thing. This is not my art project; this is my life." But his life allows for a beautiful piece of art. His loss is so cathartic for others who have experienced loss. That is truly beautiful art. I think "trying to innovate" is artistic posturing and can lose the deep authenticity of this record. This record feels true and it is deeply moving in its vulnerability.
I could easily go on about several other tunes on the album. Suffice it to say that listening to it for nearly a week straight and I'm still finding new joys with each listen. It's pulling me back into the beauty of finding that track or record that just moves you and makes you realize something new.
Honorable Mention:
Father John Misty – I Love You, Honeybear
Josh Ritter – Sermon on the Rocks
Jason Isbell – Something More Than Free
---
About the author:
Jeff is a teacher in the Boston area. When not buried correcting papers, Jeff can be found plucking various stringed instruments and listening to all types of americana music.
---