One of the best bar-concert surprises I've ever had was seeing Corb Lund open for Hayes Carll a few years ago at the Doug Fir in Portland.  I'd heard a couple of his songs, but hadn't given them much thought.  Lund and his band, the Hurtin' Albertans, came out and proceeded to not just get the party started but give Carll a run for his money as the best band of the evening.  His tongue-in-cheek raucous anthems like "5 Dollar Bill" and "Big Butch Bass Bull Fiddle" were sort of a revelatory look at what Jimmy Buffet or Robert Earl Keen would have sounded like had they been born in windswept Canada.
Lund's latest album, Things That Can't Be Undone, takes a definite turn to the serious from his earlier work.  I hate to say "grown up" because that implies a permanent change and there are enough of the classic kinds of songs that I think it's more a broadening to his music than a directional shift.  The disc starts out with "Weight Of the Gun," with its different perspective on gun control from the view of a repentant shooter.  "Sadr City" also peeks in on a violent topic from the headlines and the kind of mental anguish soldiers live with after their tours of duty.  "S Lazy H" is an all-too-familiar tale of what happens to a 6th generation homestead when families disagree and banks look to minimize risk.  The disc ends with "Sunbeam," a beautiful country ode to one of Corb's nieces who passed at a young age.
While those are all good ballads and better songs, I'm happy to report there's also some of Lund's masterful irony. "Washed-Up Rock Star Factory Blues" is a reminder that talent and luck can be fleeting.  "Alt Berliner Blues" tells the story of a 100-year-old beer hall bulldozed in the name of progress.  "Talk Too Much" is an imagined (or not?) tale of a swaggering, urban loudmouth who wanders into a rural honky-tonk without stopping to think, "you ain't the only one here that can shoot, and maybe straighter than you".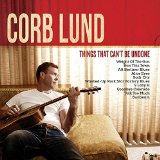 Already one of the best Americana songwriters from north of the border (Canadiana?), Lund shows on Things That Can't Be Undone he can craft serious tales alongside the rowdier material.  The result is an album that shows the best of Lund and his band from multiple angles.  And if you haven't seen them live, put it on your to-do list.
---
About the author:
I've actually driven from Tehatchapee to Tonopah. And I've seen Dallas from a DC-9 at night.
---