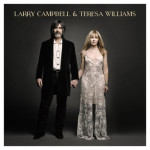 Although Larry Campbell has released a number of his own recordings, he is known more for his associations than solo work. He is such a versatile musician it would almost be easier to list instruments he does not play. Most recently he garnered acclaim as a producer for Levon Helm's final albums. Both albums, "Dirt Farmer" and "Electric Dirt" each won a Grammy. As a musician, he has played in the studio or on tour with a who's who of musical icons. Most notably he was in Bob Dylan's touring band from 1997 to 2004.
Larry Campbell and his wife Teresa Williams have been performing together for years, but they finally headed into the studio. The resulting self-titled debut is a triumph. On the album, the harmonization of the two is so natural and at times calming. The music runs a gamut that includes Country, Blues, Rock and Folk; generally blending two or three styles in each song. They sing mostly duets, but each goes solo as well. For someone who is known primarily as an instrumental savant, Campbell shows off some good chops on vocals. Teresa Williams voice is very soothing, and shares similarities with Roseanne Cash. This is particularly evident on the ballad, "Another One More Time". On this song they sing about love with an honest and realistic perspective. "Don't need no fairy tale fantasy. That has never been my style, if you'll just mean the words you say to me and bring me flowers once in a while". This highlights the truth that honesty is a bigger part of love than the emotional feeling of being in love.
From the opener a Bluesy duet, "Surrender to Love", the chemistry between the two is obvious. This may be their debut studio recording, but their years of playing together are evident. In fact, the album makes the listener feel more like a part of the family than a spectator. That being said, this project is not overly serious. For example, the up-tempo groove of "Ain't Nobody for Me" will make you move and laugh simultaneously.
Simply put, the new release by Larry Campbell and Teresa Williams is like home cooking. It is comfort food that is best enjoyed while swapping tales around the kitchen table.
---
About the author:
Chip and his family live in Birmingham, AL. Roll Tide!
---