The Tweed River Music Festival was born back in 2009 when a group of friends decided to have a bbq in Northern VT. Fast forward six years and the festival is gearing up for another joyous weekend of music and friendship. Think about that a minute. In an era overrun with mammoth corporate-driven hyper-events, here's a festival that has grown from humble beginnings while still remaining true to its roots.
Tweed is more than a festival, it's a community. While it draws heavily from the New England rock and Americana scene, the bookers have increasingly made room for a few specially-selected out of town guests. In the former category this year are folks like co-founder Bow Thayer, soulman Jesse Dee and Providence rockers the Silks. In the latter category are Ohio's Lydia Loveless, Nashville's J.P. Harris and (by way of Providence) Joe Fletcher and Brooklyn's Christopher Paul Stelling.
At Tweed, more than most festivals, the line between musician and performer is blurred. I don't mean that it is a free-for-all with the audience crashing the stage (although I wouldn't be surprised to learn that this has happened in past years), but rather that the musicians seem to savor their time watching peers as much as they enjoy their time performing. Simply put, it's an amazing hang.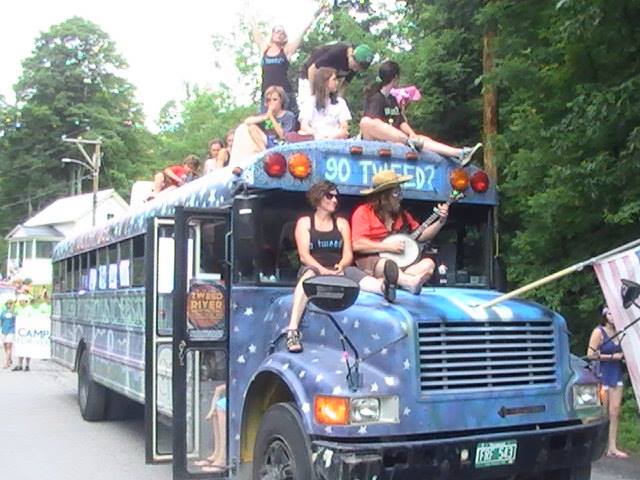 In the coming weeks we'll be we'll be speaking with many of the artists appearing at this year's festival. We'll be asking them, among other things, about their experiences at and expectations for Tweed, the home towns that have helped shape their careers and their favorite Ben & Jerry's ice cream flavors.
In the meantime, here's a short video that captures some of the Tweed magic. Oh, and how many festivals have their own bus?
---
Tweed River Music Festival is less a showcase for bands and more a celebration of everything that great music embodies: the deeply personal link between artist and fan, the spirit of community and cooperation and, yes, the magical atmosphere of a great show in a stunning setting.

Set on a bucolic swath of land nestled between the Green and Northfield Mountains in the Mad River Valley in Waitsfield, VT, the 2015 Tweed River Music Festival will host more than 30 acts, including staples such as B​ow Thayer, Tim Gearan, Andrea Gillis, White Dynomite a​nd T​he Curtis Mayflower, ​while also welcoming B​loodshot Records r​ecording artist L​ydia Loveless,​ Vermont natives W​aylon Speed and​ A​lligator Records​ recording artist (and Boston native) J​esse Dee.​Other great musical acts include J​oe Fletcher, JP Harris and The Tough Choices, Caitlin Canty ​and A​NTI Records​recording artist C​hristopher Paul Stelling.​

Visit the Tweed web site for ticket information and additional details on the festival. Click here for more Twangville coverage of Tweed and this year's participating artists.
---
About the author:
Mild-mannered corporate executive by day, excitable Twangville denizen by night.
---