There's something about bluegrass that always seems slanted toward picking up your spirits.  It's not that the genre doesn't have its share of good murder ballads–a couple of doozy's come immediately to mind–but as a rule it's not somber music. That's true in spades in the debut album from Colorado-based Trout Steak Revival.
Entitled Brighter Every Day, many pieces on the record tell stories of the various band members migration from their homes in the East and Midwest to their new base in the Rockies.  Ours For the Taking and Oklahoma both speak of bass player Casey Houlihan's university stopping point in St. Paul. Union Pacific, while covering mostly points in California, nonetheless pines for the railroad to "let your whistle blow, and bring me back." Colorado River covers what I assume is an amalgam of road trips across their new home state. Not all the trips involve wheels, though.  On Wind On the Mountain banjoist Travis McNamara recalls a spring backpacking trip where the warm rains at the beginning turn to blinding snowstorm by the time they reach Georgia Pass.
The album is more than travelogue.  The title track was written for a friend's wedding and serves as anchor for the record's optimism. Go On does go with a less happy topic of breaking up; "go on, walk those feet right out the door." Pie is the love song in the collection, albeit one where the object of desire isn't the opposite sex, but rather guitarist Will Koster's favorite baked good (I suspect he eats pie more than just for dessert).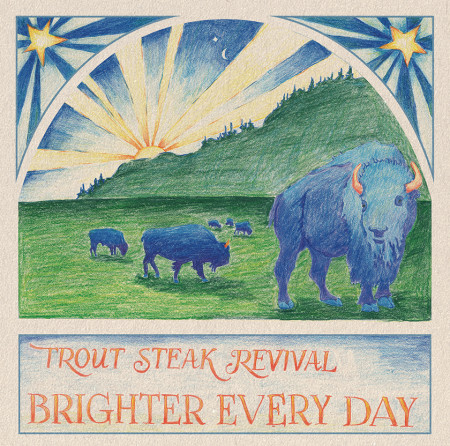 One final point to mention about Trout Steak Revival is they won Best Band in last year's Telluride competition.  Putting them in the company of such notables as Greensky Bluegrass, Nora Jane Stuthers and the Bootleggers, and Front Country, it serves to further add bona fides to a group you'll undoubtedly hear more from in the future.
---
About the author:
I've actually driven from Tehatchapee to Tonopah. And I've seen Dallas from a DC-9 at night.
---