My favorite weekend of the year has come and gone again.  A couple of weeks after the over-sized crowds, egos, and marketing campaigns of SXSW comes a music festival in the hill country outside Austin that's just about the music.  With only 15,000 attendees, and a couple of stages, you can see at least a partial set of every band that plays, and every band that plays is worth seeing.  Here are some of the highlights of the 2015 Old Settler's Music Festival.
Honky Tonk Gods – Ray Wylie Hubbard had a Friday night partisan crowd singing along with Snake Farm and Up Against the Wall Redneck Mothers while peppering the show with his wry observations after decades in the music business.  Although not so much honky tonk gods as Austin country royalty, Kelly Willis and Bruce Robison's Saturday afternoon show reminded everyone how many great songs they have. The standout here, though, was Bill Kirchen's campground performance on Thursday evening.  With his trademark diesel-billy sound and stories dating back to seeing Bob Dylan at the '65 Newport Folk Festival, Bill had everyone lathered up by the time he closed with his signature 15-minute-long version of Hot Rod Lincoln.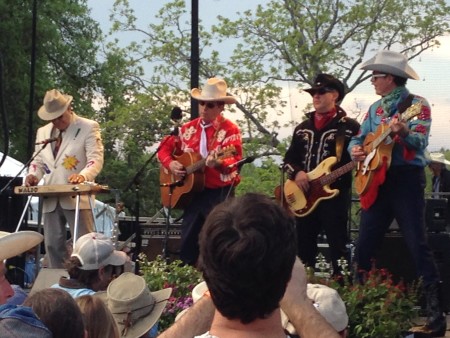 Everything You Expected, And More – Over the years I've found there's a small number of Americana artists that can just be counted on to bring it when it comes to live performances.  They're not just musicians, but full fledged entertainers.  Sam Bush fulfilled that promise again this year.  Hot Rize, and their alter-ego's Red Knuckles and the Trailblazers, were perfection Saturday afternoon. The best of the show this time was The Mavericks headlining Friday night.  Raul Malo and his crew delivered a studio-quality show even though they were making last minute deviations to the set list.
Did You Hear That??? – It's always fun at a festival to hear some of the groups stretch out in front of a crowd that really appreciates superfine musicianship.  The boys in MilkDrive are slowly but surely setting a standard for genre-bending solos in what's fundamentally a bluegrass set.  Local favorites The Jitterbug Vipers, even temporarily without leader Slim Ritchie, are as much jazz as anything but guest stars Dennis Ludiker and Connor Forsythe put an Americana twist on Sarah Sharp's smoky vocals.  At the end of the day, though, I think Jeff Austin's new band featuring Danny Barnes won the award for most people just shaking their heads in amazement.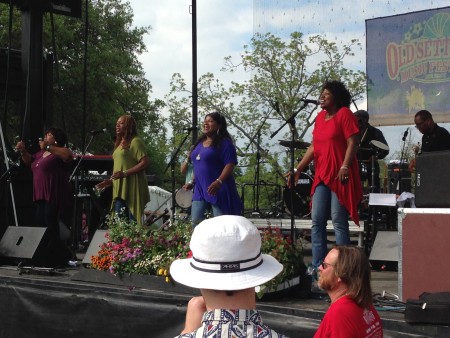 Don't Forget It's Austin – Something to remember about Old Settler's is it's only half an hour from the live music capital of the world. That raises the bar on just about everything.  The Youth Talent Competition is like no other, and this year's winner Joelton Mayfield will be right at home next year taking his victory lap on the main festival stage.  The McCrary Sisters don't travel much, but when they do it's a sight to behold and the crowd easily got into the gospel mood.  When the sisters finished their set with the Staples' I'll Take You There it was truly a religious experience.  And speaking of religion, albeit metaphorically, Saturday closing act Shinyribs was like attending the church of Americana funk.  Leader Kevin Russell must have been a fire-and-brimstone preacher in another life. Hallelujah!  I can't wait until next year.
---
About the author:
I've actually driven from Tehatchapee to Tonopah. And I've seen Dallas from a DC-9 at night.
---