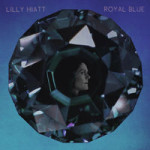 The skeptics tend to come out of the woodwork when the progeny of a well-known musician launches a career. To be true, their caution is often warranted. One listen to Lilly Hiatt's new release "Royal Blue" silences all doubt. This is her second album; and it firmly establishes Hiatt as a gifted artist who is cutting her own path. She brings together a mix of influences and forges a coherent body of work. More than a singer-songwriter project, "Royal Blue" is captivating in every aspect.
Many of the songs have late casino eighties and early nineties post punk underpinnings, with loose guitar riffs and synth backgrounds. These songs tend to conjure The Cure and Echo and the Bunnymen. Her voice is reminiscent of The Breeders' Kim Deal. The opener, "Far Away" and "Get This Right" exhibit all of these qualities. At times, she utilizes her Nashville influences by seamlessly employing pedal steel instead of synthesizers. However, she is not afraid to head down other paths. For example, "Somebody's Daughter" is distinctively Country with a style similar to Roseanne Cash. It is this mix of influences that make "Royal Blue" such a rewarding collection.
Lyrically the songs contain an honest and at times painful look into failing relationships. However, the songs don't bog down in sadness. On the Folk infused "Your Choice" Hiatt sings "I'd rather throw a punch than bat an eye", exhibiting a toughness that has built up like callouses from each painful relationship. She also maintains a sense of humor on songs Like "Jesus Would Have Let Me Pick the Restaurant".
"Royal Blue" is truly a gem that employs a diversity, and gets more appealing with each listen.
---
About the author:
Chip and his family live in Birmingham, AL. Roll Tide!
---