Twangville made its first trip to the annual Folk Alliance Conference a few weeks ago. The event brought hundreds of musicians to Kansas City for four days of music. And more music. And more music.
Folk Alliance is unlike any other festival or conference one can attend. Sure, like most conferences it features topical sessions during the day and official showcases at night.
What sets Folk Alliance apart, however, are the private showcases and the impromptu jams that take place day and night. To get a feel for the private showcases, which run into the wee hours of the morning, imagine a college dorm with a party taking place in every room. Except in this case the dorm was three full floors of guest rooms at a downtown Kansas City hotel. In some cases the beds and furniture were removed from the rooms. In other cases they were left in place and one would find a few folks sprawled across the bed enjoying a musical performance taking place in front of them.
The event was infused with a remarkable sense of community and an impressive informality. In fact, it was impossible to walk more than a few feet and not see someone with an instrument or instrument case. Everywhere one looked there were musicians enjoying one another's performances (when they weren't sitting in, of course). They were joined, of course, by plenty of fans who were gleefully overwhelmed by both the quality AND the quantity of the music. Here are but a few of the many highlights.
---
SESSION AMERICANA
Twangville faves Session Americana made the trek from Boston to Kansas City to host their own private showcase room. Their sets included a mix of classics ("Beer Town") and wonderful new songs from their forthcoming release ("Pack Up the Circus"). The group took full advantage of the musical talent in attendance by inviting a host of guests to perform solo sets and sit around the Session table. They also won the prize for the most musicians featured in a standard-sized hotel room performance – thirteen(!) people, including a horn section, a couple of fiddles and more, joined in for their closing jam.
---
KEVN KINNEY
The Drivin' N' Cryin' front man played an official showcase but it was his late-night set that was truly special. Kinney started earlier than expected (or was I late?) so I only caught his last couple of songs. What's not to like when you walk into the room and he's playing "Straight To Hell"? He was backed by husband and wife duo the Smoking Flowers, who had just finished their own set.
Kinney closed with a brilliant take on the Replacements' "Here Comes a Regular," turning it into a mighty fine sing-along.
---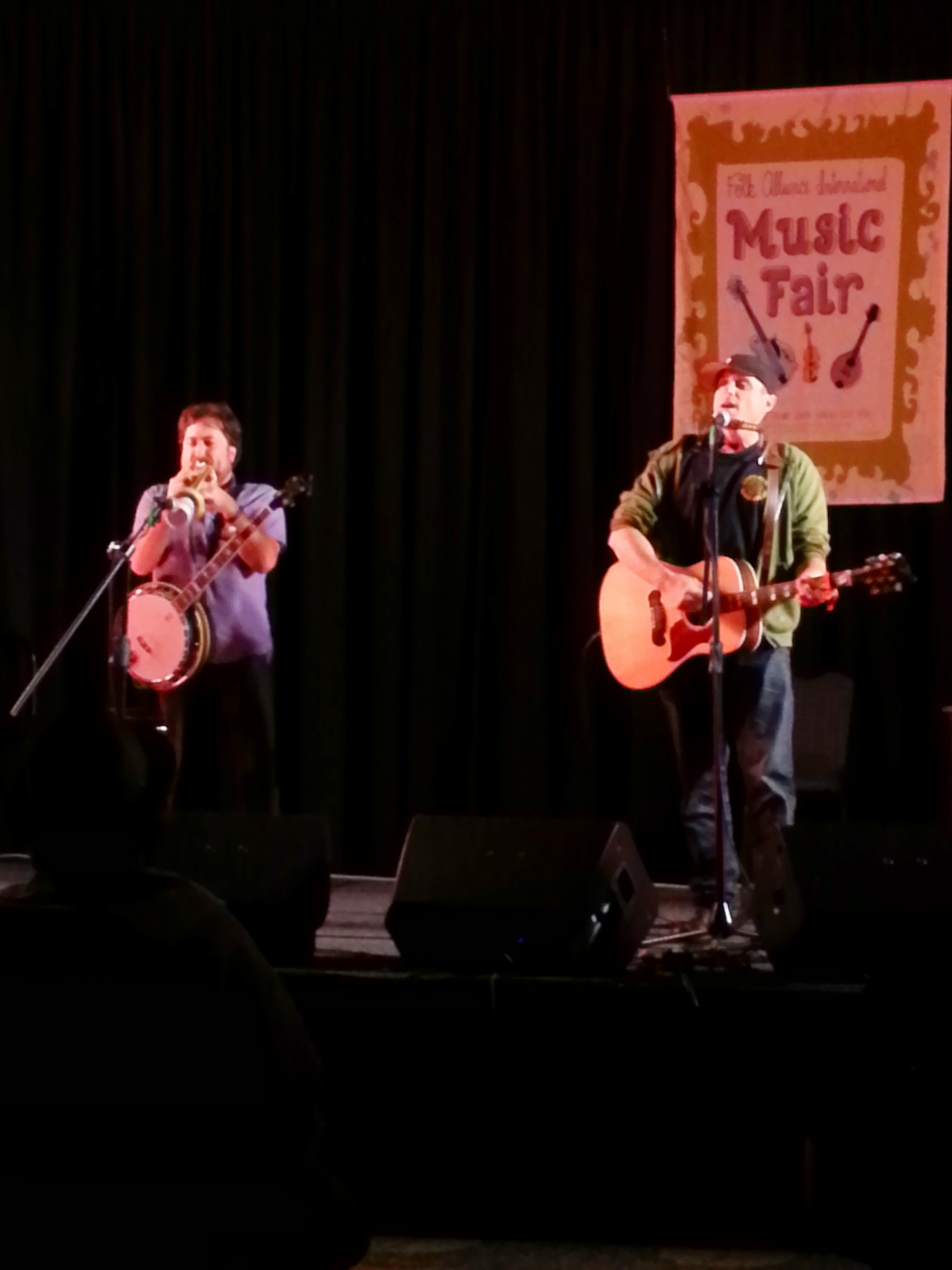 DAN BERN
I caught Bern play two sets, the first of which was a late night (2:30am) hotel room session. He was joined by his touring partner Jordan Katz on banjo and trumpet plus guest Anthony Da Costa sitting in on guitar. It was a "wing and a prayer" session in the best possible way. The three of them sat casually in chairs and mostly made up the set list as they went.
The following night Bern played an official showcase (pictured above) to several hundred people in a hotel ballroom. The set list was more formal but no less entertaining.
---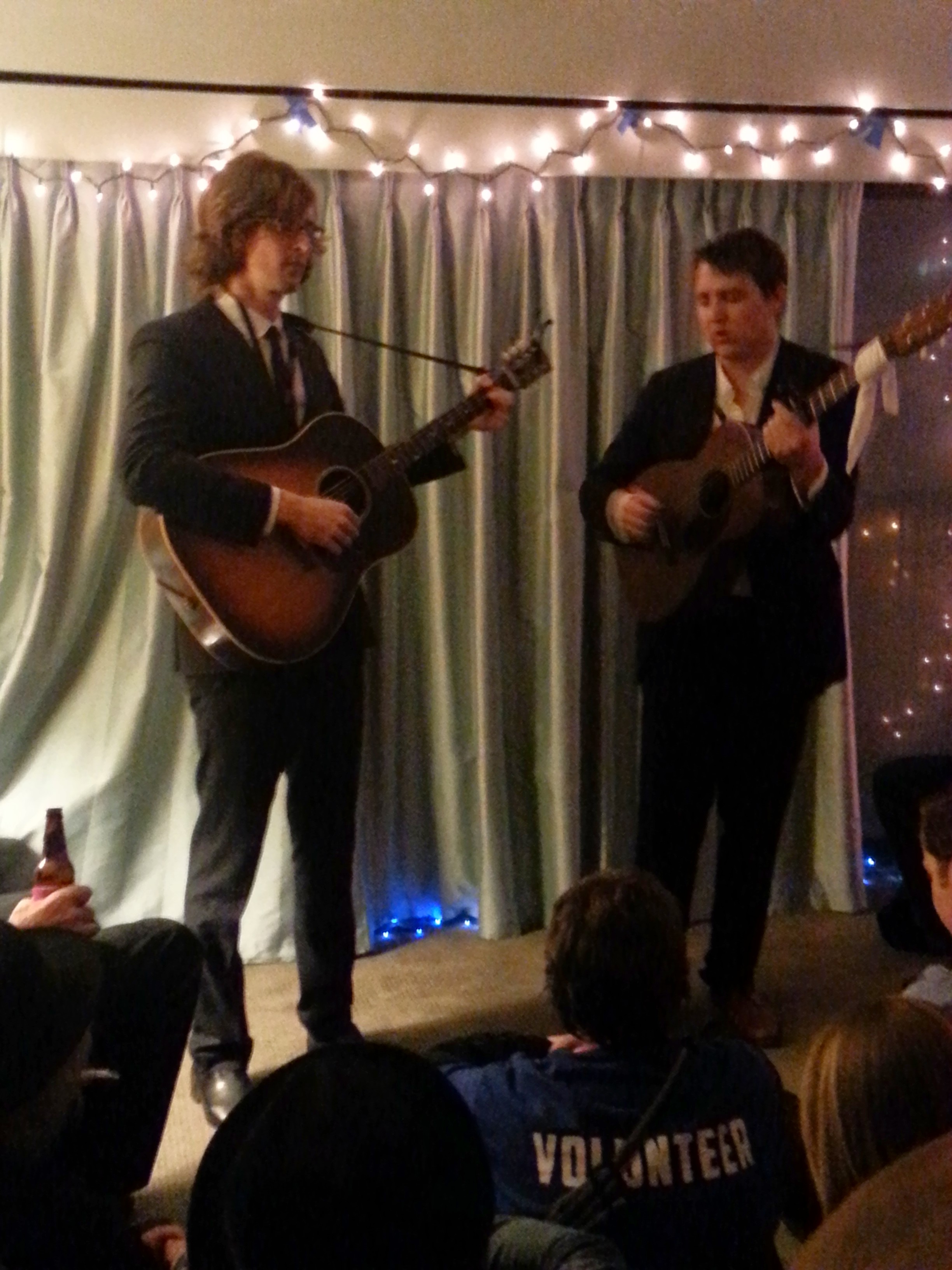 THE MILK CARTON KIDS
The Milk Carton Kids were a late – and welcome – addition to the conference. I caught them for two capacity sets – first with several hundred people in a ballroom and later with about 30 people crammed into a hotel guest room. Both performances showcased the duo's tremendous talent as songwriters, musicians and entertainers. Joey Ryan's wit, Kenneth Pattengale's virtuos guitar playing and the pair's magical harmonies were in fine form as they played fan favorites (including a few requests) and previewed a few songs from their new album due this spring.
---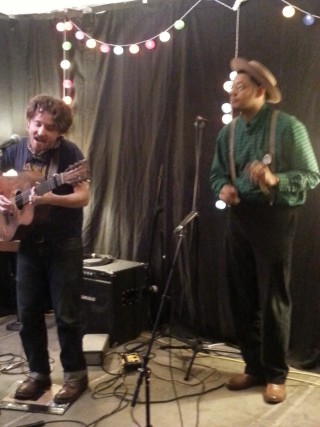 CHRISTOPHER PAUL STELLING
The New York-based Stelling celebrated his recent signing to Anti- Records with a couple of late night showcases. He performs with a captivating intensity, combining flamenco-style guitar with impassioned spit-fire lyrics.
Stelling provided a great example of the impromptu musical collaborations that occur, invited Dom Flemons to join him on spoons for a song. They apparently met in the hallway just prior to the set.
---
MATT THE ELECTRICIAN
It had been awhile since I've seen Matt Sever, aka Matt the Electrician. My mistake. There's a thoughtful intelligence and a gentle wit to his music. He uses it to command attention with a quiet grace, as adept with a wry quip as he is with a song.
---
About the author:
Mild-mannered corporate executive by day, excitable Twangville denizen by night.
---