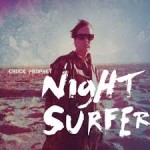 As usual it was a tough year to pick the top albums. This year was particularly tough; in that there were a number of top notch releases, but no clear standouts. Thus the conundrum, how to separate albums that are all deserving and uniquely their own. Here is an attempt to rank my top ten. The order is less important than the collection as a whole.
1) Chuck Prophet – Night Surfer
Going back to his Green on Red days in the 80's, Prophet has been an icon for 30 years. Yet he has lost none of his creativity or drive, and proved it by releasing one of the best albums of his career. He also wins the award for best song title – "Countrified Inner City Technological Man".
2) Sturgil Simpson – Metamodern Sounds in Country Music.
Did someone clone Waylon. Close your eyes and listen to his voice and they are almost indistinguishable. Simpson is the new light in the bleak Country landscape. He has the attitude and independence of spirit Nashville needs. We can only hope.
3) Shovels and Rope – Swimmin' Time
Their brand of Americana is both beautiful and haunting. This is roots music with a transcendent vibe. The lyrics have a raw spirituality and emotional depth. The whole package just grabs you and won't let go.
4) Justin Townes Earle – Single Mothers
Much like Jason Isbell last year, JTE has emerged from addiction with a new soul mate and direction. This album proves it. See my recent live review for more on this record.
5) Old Crow Medicine Show – Remedy
The boys hit it out of the park on this one. "Remedy" is a little more country, without giving up the front porch music feel that is their trademark. If you don't want to shake your ass and stomp around while listening to this, then find a jug in a hurry.
6) The War on Drugs – Lost in the Dream
Seven minute ethereal songs are usually not my thing, but the lush layered melodies on the album are captivating. Once you start listening the music pulls you in and you become ingrained with the subtle hooks.
7) First Aid Kit – Stay Gold
Two Swedish sisters who hang out with Conor Oberst can't be all bad. Much like War on Drugs, this isn't something that people who read my reviews would expect to see in my top ten. However, the symphonic accompaniment and lush harmonies mask an underlying layer of Americana and Folk that is so peaceful; it hypnotizes the listener like a siren song.
8) Jack White – Lazaretto
I don't know what to say except the he has done it again and again and again ….. Is there no end to his genius? Let's hope it continues forever.
9) Lucinda Williams – Down Where the Spirit Meets the Bone
The title says it all. The songs on this album cut to the core. Lyrically poetic and speaking straight into the heart. The music is a powerful gumbo of Soul, Blues and Country. This album has not received the notoriety it deserves.
10) St. Paul and the Broken Bones – Half the City
These fellow Alabamians deserve all of the attention and accolades they are getting. This album would have fit in perfectly with any of the great recordings from the early days of Muscle Shoals Fame Studio, where the album was recorded.
Others of note …
Chattam County Line – Tightrope
Ryan Adams – Ryan Adams
Trigger Hippy – Trigger Hippy
Howlin' Brothers – Trouble
Cory Branan – No Hit Wonder
Rodney Crowell – Tarpaper Sky
Luther Dickinson -Rock N. Roll Blues
Hot Rize – Where I'm Free
Old 97s – Most Messed Up
Secret Sisters – Put Your Needle Down
---
About the author:
Chip and his family live in Birmingham, AL. Roll Tide!
---