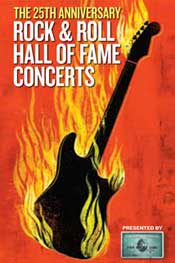 Tom Hanks may have kicked things off with a hearty "Hail Hail Rock and Roll," but it was the legendary Jerry Lee Lewis (HoF inaugural class of 1986) who got the party started. The 74-year old was clearly showing his age yet still showed his spark as he knocked out a healthy version of "Whole Lotta Shakin' Goin' On."
And so began the two night celebration of the Rock and Roll Hall of Fame on the occasion of the Hall's 25th anniversary. The shows proved quite the celebration, running nearly ten hours over two nights at New York's Madison Square Garden. Headliners ranged from Bruce Springsteen to Metallica with many in-between, including a range of pre-announced and un-announced guests.
Read on for a report from the first portion of night one (which ran over 5 1/2 hours!); stay tuned for reports on the rest of night one and all of night two.
---
Rock & Roll Hall of Fame 25th Anniversary Concerts, Night One
29 October 2009 @ Madison Square Garden, New York City
Headliners: Crosby, Stills & Nash; Paul Simon; Simon & Garfunkel; Stevie Wonder; Bruce Springsteen

Guests: Jerry Lee Lewis, Bonnie Raitt, Jackson Browne, James Taylor, Dion DiMucci, Little Anthony & the Imperials, Smokey Robinson, John Legend, BB King, Sting, Jeff Beck, Sam Moore, Tom Morello, John Fogerty, Darlene Love and Billy Joel.
---
Crosby, Stills & Nash
As if to assert the social power of rock and roll, the legendary trio (HoF class of 1997) opened with a fiery version of "Woodstock." As the energy pulsed through the room one couldn't help but wonder what it must have been like to hear the song back in the 1960's. Nash's classic "Marrakesh Express" was a laid-back respite before Crosby let loose with a blistering version of "Cut Your Hair." Three songs into their set and I was already floored by the combined power of Crosby's voice and Still's scorching guitar.
The organizers had promised special guests, and Crosby, Stills and Nash set a high bar by Bonnie Raitt (class of 2000), Jackson Browne (class of 2004) and James Taylor (class of 2000). Crosby's comments illustrated the mutual respect among the six musicians. Apparently he would like to write songs like Taylor and sing like Raitt.
Raitt fulfilling a Crosby request for her lesser-known ballad "Love Has No Pride" and then trading guitar licks with Stills on the Allman Brother's "Midnight Rider." Magical. Taylor led the group in his own "Mexico" and stayed on to join the group for Still's "Love the One You're With." Browne was equally impressive on "The Pretender."
The six singers closed the set with a rousing sing-a-long version of "Teach Your Children." We were off to a good start.
Paul Simon/Simon & Garfunkel
As the lights faded, an a cappella group of voices rang out, "She's a rich girl, she don't try to hide it, she got diamonds on the souls of her shoes." The funky classic from Paul Simon's (classes of 1990 and 2001) Graceland album was only the beginning a three song percussive dance party that also included "Me & Julio Down by the Schoolyard" and "You Can Call Me Al." Alas there was no Chevy Chase cameo on "Al" but it was far from disappointing as the crowd danced around their seats.
Simon slowed things down with an acoustic take on George Harrison's (classes of 1988 and 2004) "Here Comes the Sun" with help from David Crosby and Graham Nash. It was a moving moment made all the more special by the three singers' gentle harmonies.
Simon's clear appreciation for the early rock vocalists shone through in his special guests. Dion DiMucci (class of 1989) kept the party moving with a rousing "The Wanderer" with Simon on background vocals. Simon later recalled an early inspiration in his introduction of Little Anthony and the Imperials (class of 2009). It was hard not to be impressed with the group's vocal prowess. At nearly 70 years old Little Anthony has a voice that would make the American Idol crowd envious.
And then the familiar and haunting introduction to "Sounds of Silence" echoed through the hall. Art Garfunkel (class of 1990) stepped to the stage in a, um, colorful blue and red floral shirt and the duo began to sing. The performance was mesmerizing. With nary a word between, the duo picked up the tempo with a fine take on "Mrs. Robinson" that included a brief interlude of Buddy Holly's (class of 1986) "Not Fade Away." The subsequent "The Boxer" became a sing-along as the audience joined in for the "Lie-la-lie" chorus.
It would have been hard to imagine a Simon and Garfunkel performance without hearing "Bridge Over Troubled Water." Although I've seen some reviews that reference the duo's aging voices, Garfunkel's voice rose to the rafters and their harmonies lived up to my long-standing expectations.
Oh, the duo closed with an enthusiastic "Cecilia." The icing on the cake.
The Complete Night One First Half Set List:
Jerry Lee Lewis
"Whole Lotta Shakin' Going On"
Crosby, Stills and Nash
"Woodstock"
"Marrakech Express"
"Almost Cut My Hair"
"Love Has No Pride" (featuring Bonnie Raitt)
"Midnight Rider" (with Bonnie Raitt)
"The Pretender" (featuring Jackson Browne)
"Mexico" (featuring James Taylor)
"Love the One You're With" (with James Taylor)
"Rock and Roll Woman"
"Teach Your Children" (with Bonnie Raitt, Jackson Browne and James Taylor)
Paul Simon
"Diamonds on the Soles of Her Shoes"
"Me and Julio Down by the Schoolyard"
"You Can Call Me Al"
"The Wanderer" (with Dion DiMucci)
"Here Comes the Sun" (with David Crosby and Graham Nash)
"Late in the Evening"
Little Anthony and the Imperials
"Two People in the World"
Simon and Garfunkel
"The Sounds of Silence"
"Mrs. Robinson"/"Not Fade Away"
"The Boxer"
"Bridge Over Troubled Water"
"Cecilia"
---
About the author:
Mild-mannered corporate executive by day, excitable Twangville denizen by night.
---