Maybe it's just me, but it seems like The Belleville Outfit is becoming sort of like Big Star or Nick Drake.  Which is to say that if everyone who currently claims to have been a huge fan from the beginning had actually bought records or gone to shows when the band existed, they'd have been a hugely successful phenomena.  Instead, the group recorded a couple of albums 5-6 years ago and then split up to pursue other things.  Fortunately, a couple of the band members continue to make music in a similar style.  Phoebe Hunt and Connor Forsyth are playing and recording the genre-bending mix of big band jazz and traditional country music that The Belleville Outfit was known for, and have just released a new album, Walk With Me.
Although she's certainly an accomplished fiddle player, it's Hunt's voice that will stop you in your tracks.  Add to that Forsyth's keyboards and you have the core sound that's at home on a wide, wide range of musical styles. Warm Summer's Evening sounds like an updated 40's pop song with Hunt's velvety vocals and some subtle muted trumpet from guest Kevin Flat.  Long Gone adds the horns again along with guitar from Willie Pipkin adding to Gatherer guitarist Marshall Hood to produce a spot-on Muscle Shoals sound.  Forsyth turns to a Stevie Wonder-like organ arrangement to give Darkness a 70's radio-friendly feel.  You Know By Now also captures a little of that that 70's deja vu feeling.
My favorite song on the disc is Walk Of Angeline.  It features more of Hunt's fiddle and is more uptempo and country than anything else on the album.  Although Flee Fly Flow Flum also captures some of that spirit, I'm still left wanting a lot more of that particular sound.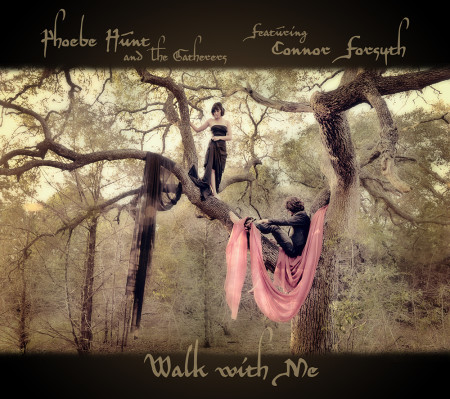 The musicians, both guests and Gatherer members, play a huge role in Phoebe Hunt's latest release.  But what holds it all together and sets it apart is her voice.  The sum total of those parts is a rich texture of unique sound that, like the sirens of old, leaves you no desire to escape its warm embrace.
---
About the author:
I've actually driven from Tehatchapee to Tonopah. And I've seen Dallas from a DC-9 at night.
---