It's the best little festival you've never heard of. At least I hadn't until this year. Who knew that over the span of 28 years the little known festival in central Massachusetts would host the likes of Gillian Wellch, Mavis Staples, Alison Kraus & Union Station, Buddy Guy, and Lucinda Williams to name a few. This year is really no different. Green River Festival 2014 combined local favorites with national acts. Little did I know that it has been a coming out party for years and perhaps this year's festival could easily be the same.
At the close of the day, headliner Josh Ritter took the stage as heavy storms passed through the area and periodically soaked the audience. But happy-go-lucky Ritter was not to be deterred. Twangville photographer Suzanne and I had seen his brilliant acoustic show this spring so I was expecting a lot. While I enjoyed the set as I was running for cover, I did find that Josh's newer material from "Beast in Its Tracks" is particularly well suited to the acoustic setting from the spring. At Green River, Ritter wisely opted for lots of his old favorites. "Kathleen," "Right Moves," and "Good Man" all got the crowd rocking. Ritter's buoyant personality kept the show just as fun despite the uncooperative weather.
Trampled by Turtles played their usual frantic mix of rock music played with bluegrass instruments. I think calling this music bluegrass is a bit of a stretch but it certainly is compelling. "Are You Behind the Shining Star?" a track from their newest album "Wild Animals," slows down just enough to let Dave Simonett's brilliant lyrics and vocal delivery shine. The band certainly ups the emotion when the songs get a chance to breathe at a slower tempo. Many tunes take on an epic and ethereal quality that is quite unique in Americana today.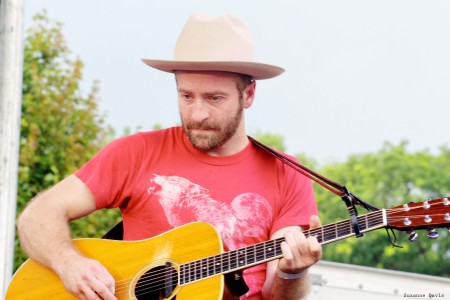 Boston favorite Girls, Guns & Glory led off the festival with Hank Williams' inspired classic country. One of Boston's finest Americana songwriters, Ward Hayden has a voice all his own. GGG is musically tight, featuring the country licks of guitarist Chris Hersch. The band's set mixed a variety of classic country sounding tunes with some that don't fit in so neatly under that umbrella. Particularly, live favorite "All the Way Up to Heaven" sounded like a new twist on an old theme. The band has clear roots but manages to sound original at the same time. "I Saw the Light," "Lonesome Train," and "You, You, You" brought the crowds who didn't know the band to their stage. The band is surely growing beyond Boston's best kept secret with performances like these. They have managed to realize a vision with a reverence for the past that fits in the current Americana landscape.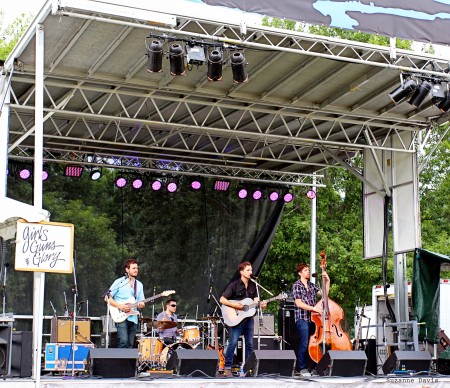 The boys of Barnstar had been working on their new record this past winter and the Green River Festival was a rare opportunity to see the boys play the songs live. They have their own take on Americana: songwriters' bluegrass. What do I mean by that? They trade in the usual bluegrass instrumentals for a focus on vocally centered songs. I had the opportunity to see the band in the studio and saw a window into how the band balances their other careers (they have other bands, solo projects, work with other artists that keep them extremely busy). But the band's vocals are tight and show an increasing focus on the high harmonies of bluegrass. Mark Erelli's vocals, particularly on Josh Ritter cover "Darlin,'" give the band a lead vocal focus this time around. Father son tandem, Taylor (high harmony and mandolin)  and Jake Armerding (fiddle) anchor the band in the bluegrass tradition. But the band certainly does have their own take on bluegrass with such a variety of unique songwriting voices.  With Mark Erelli's vocals leading the way, Rod Stewart's "Stay With Me" gets a bit of a soul bluegrass treatment; it turns out to be quite irresistible and an appealing teaser of their forthcoming record.
All-in-all, the festival had lots of great food, vendors, and music to match. Not to mention that the festival features an eclectic mix of Americana acts. While the weather deteriorated by the end, the laid back festival was certainly a wonderful way to spend a summer day.
Photos by Suzanne McMahon
---
About the author:
Jeff is a teacher in the Boston area. When not buried correcting papers, Jeff can be found plucking various stringed instruments and listening to all types of americana music.
---