By the late 60's and early 70's bluegrass had evolved from Bill Monroe's radical take on old-timey music to a relatively known and expected performance and sound.  The Stanley Brothers, the Foggy Mountain Boys, The Osborne Brothers, and many of their peers followed a set framework and style with matching dress and choreographed solos.  It's hard to fault anyone for the conformance because it had actually become possible to make a living as a musician on the moonshine circuit and harbor dreams of national exposure on The Grand Ole Opry and Hee Haw.  And as any student of innovation can tell you, that made it ripe for disruption.  Along came New Grass Revival, Hot Rize, and John Hartford, among others, bringing elements of jazz, blues, rock, and even classical music to vault bluegrass into a golden age of improvisation.  The newest album from Frank Solivan & Dirty Kitchen, Cold Spell, seems to be a paean to that era.
For those of you who've been spending time under a bluegrass rock lately, Solivan and his bandmates are one of the hottest acts around.  In a live performance, they tear it up, no other way to describe it.  Cold Spell manages to capture a lot of that intensity.  I think some of that is an all star cast of guests including John Cowan, Rob Ickes, Sam Bush, and Megan McCormick pushing an already incredibly accomplished set of musicians to new limits.  Ickes in particular, his dobro adding a tenor element that really rounds out of the sound of several tunes on the disc, leaves more space for Solivan and Dirty Kitchen to show off their chops.
Betrayal is a murder ballad of the finest heritage–upbeat music, but dark, dark lyrics.  No Life In This Town bemoans the leaving of a lover and the realization the town you used to know is gone.  Yeah Man is an instrumental number where everyone gets a chance to stretch out.  My favorite on the album is Country Song, a tune with a nice lyrical hook, but more importantly a 5 minute–or-so instrumental vamp in the middle that takes me to my happy place.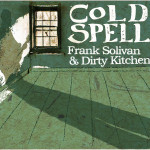 In this day and age a lot of bluegrass music is exploring the bookends of the genre.  It's either a throwback to the early days or an exploration of the indie sound with Americana instrumentation.  Cold Spell crashes squarely through the middle of the style, with excellent instrumental skills and lyrical hooks that keep you swaying to the music when you aren't dancing to the jams.
---
About the author:
I've actually driven from Tehatchapee to Tonopah. And I've seen Dallas from a DC-9 at night.
---