I'll be darned if you can get any closer to the band as you feel at a Stray Birds show. And I wish you would pass the guitar right over to the Stray Birds. That intimacy certainly has been something that is cultivated with the band members and discussed in our conversation. Suzanne, twangville's photographer, and I were lucky enough to pick their brains about their amazing presence on stage.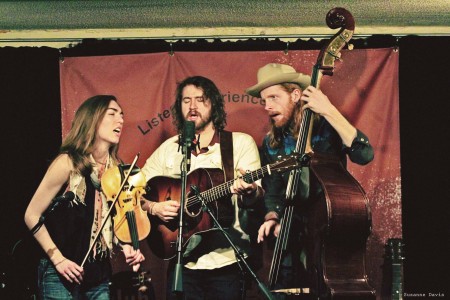 The band has been getting lots of press lately. From NPR to WAMU's bluegrass country, they are not a secret anymore. As the band pulls together tracks for a new record, my wife(trusty twangville photographer Suzanne McMahon) and I got a chance to sit down with the band a while back and in a similar way to their intimate shows. The band waxed philosophical about the importance of connections with the audience, which is certainly palpable.  Singer/fiddler/guitar/banjo player Maya DeVitry explained it very well.
"There's this Irish fiddle player who came and did this workshop when I was there [at Berkeley College of Music), Martin Hayes, and he talked about inhabiting the melody of these ancient tunes. He would play, not like he was acting, but he was literally inhabiting the melody. I feel like that's what we do with these songs and these arrangements. We inhabit the song. We try to get inside '25 to life' or 'Birds of the Borderland' for those 3 minutes. And we also use a lot of eye contact and that's really intense for people," said Maya. "I look at people more during a show than I ever do."
When you attend a Stray Birds show, you can't help but feel connected to the band. As they come in close for the harmonies and look out over the audience, it's as though you're all there together in a trusted community. There's something built in the shared experience of coming together and "inhabiting" a song. It seems like something that Maya and the band actually invites the audience to do at their shows and be in the song together. Then everyone has that joyful catharsis together. Singer/fiddler/guitar player Oliver Craven also put the personal connections of his life into perspective.
"I think the more I experience difficult things in my personal life, like circumstantial hardships, it puts things in perspective. When I see people in my life having trouble, it reminds me that what we're doing isn't the most important thing in the world. As important as it is to us and the people with us in that moment in the show, it's ultimately not do or die. I think that makes me really relaxed on stage," said Oliver Craven.
The sense of the relaxation translates into the joy of the audience in that shared experience. That seems to really allow the band and audience to get in closer to inhabit the song. It's the escape that is just a passing breath of fresh air. And the show back in April at Club Passim in Cambridge demonstrated all of those qualities. The band had a true ability to invite the audience in to "I Wish It Would Rain" and bring those emotions out. Perhaps the same emotions that others may not have been able to express are now on the table. The shared experience in meeting the song and audience is something that the band has truly brought to their shows in a very intimate way.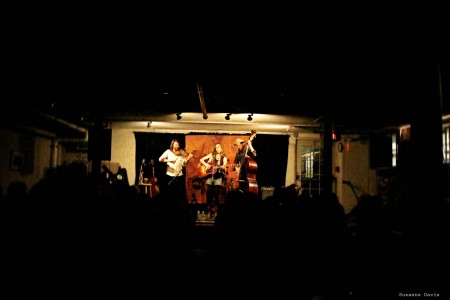 "Those songs from echo sessions. I think of them like if I'm at a party and people are passing the guitar around, I don't want to sing one of my own songs. I can hardly ever remember the words to songs other than the ones that we're performing every night. I have probably five other songs that I remember the words to. 'Wish it Would Rain' has been my go to song for years," said Maya DeVitry. "Echo Sessions is about remembering how fun it is to sing something that you didn't write. You meet the song. It's a totally different joy."
I also asked the band members about their top five records. I got artists, lists of records, and even longer lists.
Top 5ish Artists/Records:
Maya DeVitry
Bob Dylan – Blood on the Tracks
Tom Waits – Mule Variations
Bonnie Raitt – Taking My Time
Nina Simone – (a live one)
Levon Helm – Dirt Farmer
Oliver Craven
David Bowie – Hunky Dory
Beatles – Abbey Road
The Traveling Willburys – Volume 1
Tim O'Brien & Darryl Scott – Real Time
Tedeschi Trucks – Revelator
Bob Dylan – Highway 61
Hendrix – Electric Ladyland
Charlie Muench
Old & In the Way
Norman Blake
Wood Brothers
Lake Street Dive
Jonathan Byrd
John Fulbright
Photos by Suzanne McMahon
---
About the author:
Jeff is a teacher in the Boston area. When not buried correcting papers, Jeff can be found plucking various stringed instruments and listening to all types of americana music.
---