John Hiatt has long been one of the mainstays of Americana music.  Throughout his long career, Hiatt has been known for great songwriting and musicianship, but of all his earthy Americana releases, Terms of My Surrender is certainly his grittiest and arguably his most enjoyable work to date.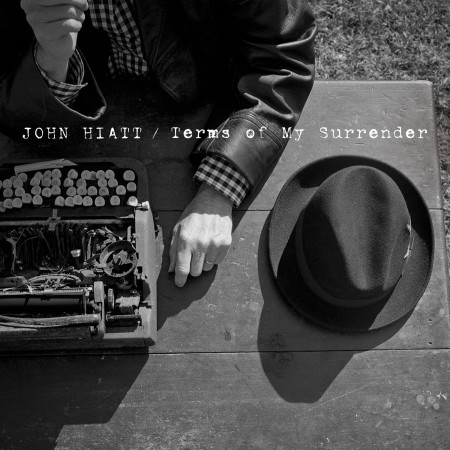 Despite some early success as a songwriter, Hiatt was a late bloomer as a performer.  Among his early songwriting credentials was "Sure As I'm Sittin' Here," which Three Dog Night took to number 16 in 1974, while Hiatt was still banging around Nashville trying to get his start.  But his reputation as a solo artist and stage performer was built one day at a time over many years.   His first two solo albums, Hangin' Around the Observatory and Overcoats, were commercial failures.  After moving to California, Hiatt did a stint in Ry Cooder's backing band, establishing a musical relationship with Cooder that would would last through several future projects.
Throughout the 1980s, however, Hiatt continued to struggle with personal demons, which included alcoholism, the suicide of his wife and his languishing career.  It was on Bring the Family that Hiatt put it all together, both musically and personally.  For that reason, Bring the Family will likely always be considered the most important Hiatt album.  With participation by Cooder, bassist Nick Lowe, and drummer Jim Keltner, the core group behind of Bring the Family would later reunite to become the short-lived 1990s supergroup Little Village.  Since then, Hiatt has continued to produce outstanding work and interesting collaborations with the likes of the Jayhawks, Bonnie Raitt and Luther and Cody Dickinson of North Mississippi Allstars.
But with Terms of My Surrender, Hiatt has taken his usual straight-forward Americana recipe and reduced it to its barest elements, producing a great album that will likely be on the short list for my favorite Americana album of the year.  He has certainly taken a page from Cooder's recent playbook (e.g., Pull Up Some Dust and Sit Down, 2011), producing a really simple collection of fantastic songs.  From the first notes of "Long Time Comin'," Hiatt's crusty vocals highlight a rootsy, bluesy collection of tasty takes that sound unadorned and informal, as though they could have been recorded in Hiatt's living room.  "Face of God" sounds as though it could have come from the lips and fingers of the oldest Mississippi bluesman.  "Marlene" sounds like a throwback 1950s rock-n-roll anthem.  "The Wind Don't Have to Hurry" is an instant classic.  Other great songs include "Nobody Knew His Name," the title tune and the satirical "Old People."  Joining Hiatt on the album were members of his touring band, the Combo, featuring lead guitarist (and the album's producer) Doug Lancio, Nathan Gehri on bass and Kenneth Blevins on drums.
---
About the author:
Bill Wilcox is a roots music enthusiast recently relocated from the Washington, DC area to Philadelphia, PA and back again.
---