If there is such a musical genre as Americana Noir, the Austin-based Madisons may be one of the leading disciples.  Front man, and sole songwriter for the band, Dominic Solis has imbued their second album, You Can Take Your Sorry Ass Back To West Texas! with a darkness that is equal parts fear and curiosity.  Solis' vocal gruffness reminds me a little of Ryan Bingham, but the other six members of the band pitch in to provide a musical richness that push the overall sound in an indie direction.
Much of the darkness on the album comes from the lyrics.  Solis spins tales of the seamier side of society where the people you run across are not folks you want on your friends list.  And yet they're all people we've known, or known about, and you can't help but wonder what happened.  In My Pocket Forever tells the story of a 14-year-old pregnant girl burned alive by the 28-year-old who got here that way.  A Long Slow Death In San Marcos Texas talks about a girl who was the reason a neighbor hanged himself.  Losing Pictures opens with, "Mary never knew she was a terrible person, but that's what she came to learn."
Fortunately, the sadness on the album is hidden from plain sight by the instrumental sounds, so you can listen on the surface if you aren't in a mood to dig too deep.  Group co-founder Oscar Gomez adds some sweet horns to several tunes, including You'll Never Know and The Fiscal Year.  Violinist Jocelyn White takes the vocal lead on Sucker Punch, and delivers something like what you'd hear if Carrie Rodriguez fronted a Portland indie band.  Carolina is an uptempo indie-grass number with everyone taking an instrumental solo and where Solis singing that, "my mental state is in a state of decline" seems light-hearted.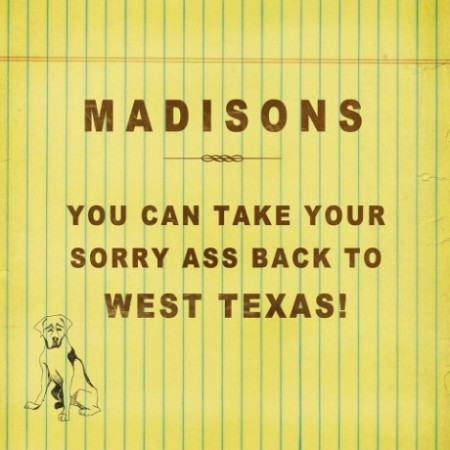 Although several songs on this album come across a first listen as modern bluegrass happy tunes, there's no way to sugar coat the underlying topics.  Similar to many people's favorite album of last year, though (Jason Isbell's Southeastern), You Can Take Your Sorry Ass Back To West Texas! rewards multiple listens.  Like good film noir,  you just have to keep going back to see more of the ne'er-do-wells.
---
About the author:
I've actually driven from Tehatchapee to Tonopah. And I've seen Dallas from a DC-9 at night.
---