There must be something in the air or water again in northern Alabama.  Home to the legendary Fame studio in Muscle Shoals, site of innumerable hits in the 60's and 70's, this part of the country is breeding future stars again.  This time, though, it's not the studio musicians adding brilliance to an outsider's record, but homegrown artists inspired by the local musical history.  The Alabama Shakes scored a Grammy nomination a couple of years ago.  My favorite live act from the past couple of years has undoubtedly been St. Paul and the Broken Bones.   The latest artist to cross my playlist is Amy McCarley.  Instead of the horns and soul influences you might expect, though, McCarley dives into some classic country and alt country music with a hint of the delta blues from nearby Mississippi.
On Here I Am, McCarley's band lays down a Bakersfield style beat on a song that could just have easily come from Merle Haggard.  She sort of repeats that success with Won't Last Forever, although I'd have picked George Jones as the originator instead of Amy herself.  Woods On Fire is a old-school kind of alt country song and Head Out Of Town more of a country ballad.
As I mentioned earlier, McCarley has injected just a hint of blues into some of her numbers as well.  Everybody Wants To, the album opener, is one of those, as is Fools Lament.  The title track goes that same direction, but emphasizes the electric sound a little more, while Smart Man pulls in more of the aforementioned alt country vibe.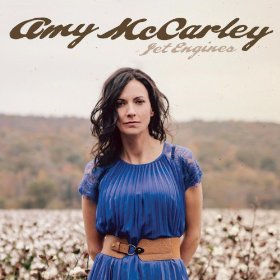 The outlier on the album is a unique take on the Albert Brumley tune made famous(?) by John Hartford, Radio On.  It's uptempo beat serves to just call more attention to the strength in all of McCarley's slower original material.  Regardless of where Amy McCarley's performance career heads, I can't help but believe you're going to hear her songs covered by other artists.  And bringing even more cred to a part of the country already renowned for its musical heritage.
---
About the author:
I've actually driven from Tehatchapee to Tonopah. And I've seen Dallas from a DC-9 at night.
---