Ronnie Earl is a preacher, and the gospel that he preaches is "the healing power of blues." A multiple Blues Music Award winner for best blues guitarist, Earl once again took home the honor this Spring at the 2014 Awards. He is a virtuoso who plays a brand of music that is largely his own invention that lies somewhere between blues and jazz.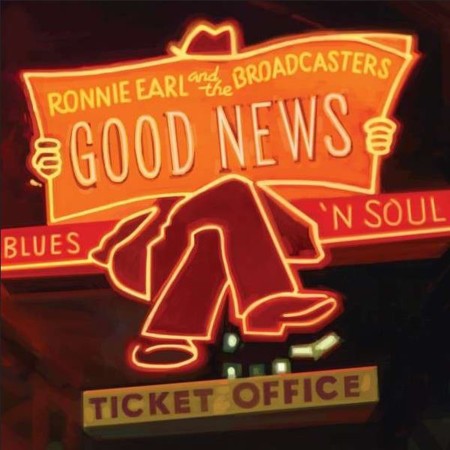 Normally, Earl and the Broadcasters' strength is expressive instrumental music. But Good News, being released this month (made available recently at the Western Maryland Blues Festival), makes a slight deviation in that almost half the songs include soulful vocals by Diane Blue, including "Runnin' in Peace," which you can stream below, Earl's memorial for the Boston Marathon bombing last year.  The lyrics were written by Ilana Katz Katz, who was near the finish line on April 15, 2013.
Born Ronald Horvath in Queens, New York, Earl has made his home in the Boston area since finishing college at BU in the 1970s. In 1979, he replaced Duke Robillard as lead guitar in the jump blues band Roomful of Blues. He took his stage name to honor Earl Hooker, an important influence. He stayed with Roomful of Blues for most of a decade before forming the Broadcasters, named after the original name of the earliest telecasters guitar (though Earl generally plays a strat).
Over the years, Earl created a rich body of great music. Check out 1996′s Grateful Heart: Blues and Ballads to hear the Broadcasters' jazzier side, or 1994′s Still River, The Colour of Love from 1997, Now My Soul from 2004, Hope Radio from 2007 to hear the jazz-blues blend mix more typical of Earl and the Broadcasters. If you want to get an idea of Earl's mastery in a single track, check out "Beautiful Child" from Hope Radio. For a bit of twang, check out "Harvard Square Stomp" from 1994′s Language of the Soul. Earl has also collaborated on a couple excellent projects, including Eye to Eye in 1996, on which he worked with blues legends Pinetop Perkins (piano), Willie "Big Eyes" Smith (drums), and Calvin Jones (bass); and The Duke Meets the Earl in 2005, the ultimate collaboration between the two great Roomful of Blues guitarist alumni – Earl and Duke Robillard.
Earl and the Broadcasters' excellent 2013 release, Just for Today, included just one song with vocals.  Good News will be good news indeed for blues enthusiasts who enjoy soulful vocals, with vocalist Blue joining the Broadcasters (Dave Limina on keyboards, Jim Mouradian on bass and Lorne Entress on drums) on several tracks, a worthy counterpoint to Earl's soaring guitar and Limina's rocking keyboards.  Always a student of blues and soul history, the album title is an homage to Sam Cooke's Ain't That Good News, which was released 50 years ago.  Cooke's "Change Is Gonna Come," which became a rallying cry for the civil rights movement after Cooke's murder in 1964, is among the highlights of the album.  But the entire collection is a solid contribution to the Broadcasters' already rich body of work.  Also joining the Broadcasters on several tracks are guitarists Nicholas Tabarias and Zach Zunis.

Audio Steam: Ronnie Earl, "Runnin' in Peace"

Audio clip: Adobe Flash Player (version 9 or above) is required to play this audio clip. Download the latest version here. You also need to have JavaScript enabled in your browser.
---
About the author:
Bill Wilcox is a roots music enthusiast recently relocated from the Washington, DC area to Philadelphia, PA and back again.
---