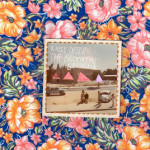 It isn't every day that a sixteen year old singer songwriter can captivate a producer through a social media post. In fact, the same would go for a 26 year old songwriter. However, that is exactly what happened in this case. When Brooklyn based producer/musician Brian Murphy saw a video of Katie performing posted on a mutual friend's Facebook page, he reached out to her. Next thing you know, Katie and her father are on their way to Brooklyn for a recording. For the project, Murphy assembled a team of musicians that are essentially the backing band for much hyped group, The Lone Bellow. The result is a five song EP entitled "The Brooklyn Sessions".
One word comes to mind when describing these songs. That word is "refreshing", and the accompanying music captures the feeling perfectly. The perspective in these songs is what is so refreshing. Katie may have a sixteen year old's view of the world, but it is her own view and accompanied by a healthy dose of humor. Take the opener "The DMV Song". It is all about how a drivers license to most people marks the first step to being "independent and free". Katie rejects this conventional view and says, "I've got this spirit in me, and I will do with it what I please. I don't need that piece of paper to prove I'm independent and free". Kudos to her for realizing this now, because it seems that in each stage of life there is a piece of paper that tries to define us. All of the songs in this project deal with identity in one way or another. Katie deals with the subject of identity often with humor. On "I Wish I Was Irish", you can't help but laugh as she describes an idyllic vision of the future in a fun way. The song "Black Coffee" has the same feel when describing an aspect of love.
It is so enjoyable to listen to a collection of songs that can make keen observations without being too heavy. On "The Brooklyn Sessions" Katie's comforting voice and perspective is accompanied by a well produced indie-folk framework. On the song "Gotta Grow Up" Katie sings about trying to "make my mom and dad proud". I think she already has.
---
About the author:
Chip and his family live in Birmingham, AL. Roll Tide!
---