Over the past 20 years, Keb' Mo' has been among a small group of African American next generation musicians widely considered to be the future of blues music. Along with contemporaries like Corey Harris, Eric Bibb, Guy Davis, Otis Taylor and Alvin Youngblood Hart, Keb' Mo' has carried the torch of blues music passed on by great Post-War artists such as Muddy Waters, Howlin' Wolf, Willie Dixon, John Lee Hooker and Sonny Boy Williamson.  Each of them has experimented and modernized the music while moving it forward as an art form.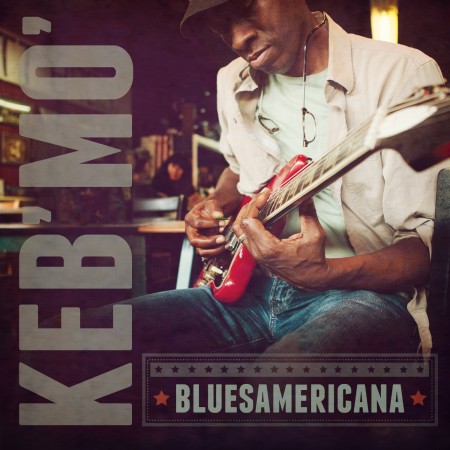 Born Kevin Moore in Los Angeles, it is said he got his unique stage name from his original drummer, Quentin Dennard, and embraced it as a "street talk" shortening of his full name.  An accomplished musician at a young age, Moore was a side man to Papa John Creach (of Jefferson Airplane, Jefferson Starship and Hot Tuna) in the 1970s.  He played in various R&B bands in the 1980s until he landed a job as a bluesman in a stage play called Rabbit Foot in 1990 and later appeared as Robert Johnson in another play, Can't You Hear The Wind Howl? 
But Moore didn't really receive wide acclaim until he was in his forties.  In 1994, Keb' Mo's self-titled first album, which included two Robert Johnson covers and 11 of his own songs, was released.  That first album was a masterpiece that echoed with the rustic roots of Delta blues.  Since then he has branched out and incorporated various soul, rock and pop music strains into his work.  He won Grammy awards in contemporary blues in 1996 for his second album, Just Like You, and again in 1998 for Slow Down.  In addition to his recorded work, Moore has also appeared in a number of films, including his role as Possum in John Sayles' blues-themed Honeydripper in 2007 (which also featured Gary Clark Jr., who is now hailed as the new future of blues).  One of the best renditions of "Sweet Home Chicago" you may ever see is the Keb' Mo'-Corey Harris duet that can be viewed as a special feature to the DVD of Feel Like Going Home, the Martin Scorsese-directed first installment in The Blues film series that aired on PBS in 2003.
Keb' Mo's work is always well done, and he is an engaging entertainer, but he has sometimes strayed far from the roots music for which he was so well recognized.  His 2011 release The Reflection, for instance, is a soul album that might best be described as jazzy pop music.  Moore's voice pulled it off, but it was a huge stylistic stretch from what many fans might have expected.
BLUESAmericana represents a return to the varied formula that made Keb' Mo's early albums so welcoming.  He is a master of pure Delta acoustic blues, but he can also pick up the pace some with relaxed, soul-inflected pieces.  The album features a large  collection of musicians and background singers, including a full horn section on several songs.  The opening, "The Worst Is Yet to Come," mixes some juicy banjo picking into an uptempo jaunt.  Other great selections include the lively "Do It Right," the sentimental "For Better or Worse," the dark Jimmy Rogers cover "That's All Right," and the playful "The Old Me Better."  Those looking for the quieter, more reflective acoustic side of Keb' Mo' will enjoy "More For Your Money."
---
About the author:
Bill Wilcox is a roots music enthusiast recently relocated from the Washington, DC area to Philadelphia, PA and back again.
---