Every spring, a couple of weeks after the madhouse of SXSW, the music festival season kicks off with Old Settler's Music Festival, about a half hour outside of Austin.  Started as a bluegrass festival, Old Settler's now embraces a broad spectrum of Americana.  Organizer Jean Spivey has a magic touch for consistently mixing old with new, and traditional with what everyone will rave about next year.  Like all festivals of any size, there's always more to see than you can get to, but with that in mind here are my highlights of the show.
Can I Get An Amen
OK, they don't exactly have the old-time religion background that many bluegrass bands do, but European group Red Wine sounds like they come straight from the hills of Appalachia–until leader Silvio Ferretti speaks in his native Italian accent.  As Friday's opening act on the bluegrass stage, they set a great tone for rest of the evening.  Rising star Parker Millsap lit up the campground stage Thursday night with his mix of blues, folk, and soul-wrenching vocal delivery.  Leaning on his Pentecostal upbringing, he delivered a fear-of-god performance.  For sheer spirituality, though, no one topped St. Paul & the Broken Bones.  They put on an electrifying performance Thursday evening, and then outdid themselves on Friday.  Singer Paul Janeway had the Austin crowd, who can be a little jaded about good music, pressing against the stage barriers like a bunch of teenage girls at a Beatles concert.  Speaking of which, the band delivered a cover of Hey Jude that was inspired, and followed it up with a cover of A Change Is Gonna Come that would have made Sam Cooke weep with joy.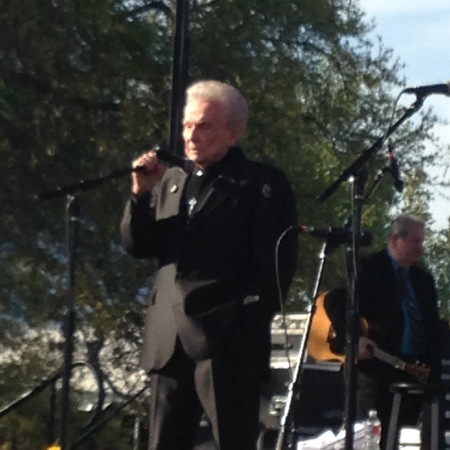 Music Legends
As I mentioned earlier, Old Settler's is usually a good place to catch some of the legends of Americana music playing for a crowd that's appreciative of their life's contribution.  Peter Rowan, a mere 71 years old, gave a heart-warming performance of many of his classics with the Twang an' Groove instantiation of his backing band early Saturday afternoon, and then played a solo, unamplified set at the Discovery Stage later in the day.  Del McCoury, 75, with his multi-generational band, gave performances on both Friday and Saturday that were as energetic as the first time I saw him almost 30 years ago.  The coup de grace, though, was Ralph Stanley.  Also featuring family, his grandson, in his Clinch Mountain Boys band, Ralph pretty much just stayed in front of his microphone.  But when the band cleared the stage and Ralph, now 87, let loose with his a capella O Death, an unearthly silence enveloped a crowd of several thousand people.  Even the normal backstage chatter stopped cold to listen to the master.
The Road Goes On Forever
At the other end of the scale are new artists with tons of talent who have many decades of performing to look forward to.  Clearly local favorite Sarah Jarosz falls in that camp, having first performed at Old Settler's in the youth talent competition, which she won at age 12.  That was literally half her lifetime ago, and she's now perhaps the princess of OSMF having not missed performing at many of the festivals in between.  Elephant Revival first broke on the scene just a couple of years ago, but they've been gathering fans and momentum since, and their performance Saturday afternoon, including guests from peer bands like Wood & Wire and Della Mae, did nothing to slow that momentum down.  I think the highlight in this category, though, was the Saturday evening set from Lake Street Dive.  The entire band is so solid and singer Rachael Price grasps the subtlety of singing to the size and energy of the crowd, with a euphoric result.
And the Party Never Ends
Unlike many moderately sized festivals, the headliners at Old Settler's are not the last act of the evening.  That honor is reserved for a party/jam band.  While the main bulk of the audience is finding their way to the parking lot, the last group of the night at Old Settlers is essentially in charge of priming the diehard music fans for the upcoming several hours of campfire jams.  Thursday night that charge was led by Donna the Buffalo.  With their style of Deadhead meets zydeco music, there was no doubt who was in control of the crowd when their supposed 75 minute set cracked the 2 hour mark.  Friday night's final official festivities belonged to the Dickinson brothers and their incarnation as the North Mississippi All Stars.  With fiery lead guitar and a driving, sometime congo line, drum beat, the All Stars were just about the only people on the planet that could have transitioned the crowd from St. Paul's Muscle Shoal's soul to anything resembling normalcy.  And then there's Kevin Russell.  With his previous band, The Gourds, Kevin owned Austin late night for several years.  Shinyribs is giving him a different outlet for his talent, but he knows when to let go of the rules and lash the crowd into a frenzy.  With Saturday night the last night of music for many OSMF attendees, Russell made sure things ended on an exclamation point.
---
About the author:
I've actually driven from Tehatchapee to Tonopah. And I've seen Dallas from a DC-9 at night.
---