So I'm in Mobile, AL this week for my day job.  As I'm eating lunch Tuesday I look up and see a poster for the Southern Soul Assembly, featuring JJ Grey, Luther Dickinson, Anders Osborne and Marc Broussard.  And it's that night at the Saenger Theatre about a block from my hotel. I rush out after work and grab a ticket at the box office, paying significantly less than I would in Philly or DC.  Having seen Anders Osborne and North Mississippi Allstars before, I run out and buy some earplugs.  Didn't need them.  The whole show was acoustic, with four exceptional regional songwriters trading songs and swapping stories that ranged from poignant to hysterically funny.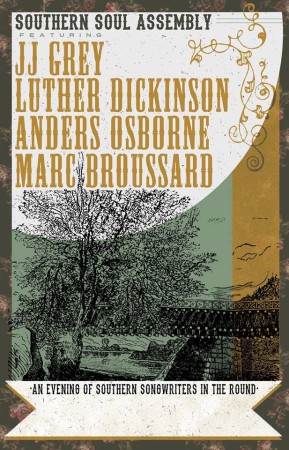 The Assembly was the brainchild of Grey, the leader of swamp funk-blues band JJ Grey & Mofro.  Grey, a native of Florida, has brought together much of the vanguard of white southern blues and soul songwriters of a certain vintage.  These guys have all been around for awhile – long enough to produce some exciting work. Osborne and Grey are in their late 40s, Dickinson is barely 40, and Broussard is in his early 30s.
As leader and a part of Mofro, Grey's reputation has grown steadily since his band recorded its first album, Blackwater, in 2001 after trying to secure a contract for a half dozen years.  Grey's music often focuses on environmental issues he cares about in his native Florida, but he also injects a fair amount of humor into his songwriting.  His last couple studio albums with Mofro, Georgia Warhorse in 2010 and This River in 2013, have even climbed onto bestseller lists among independent albums.  To the audience in Mobile, Grey's music was the most familiar among his Assembly cohorts, and I could hear the choruses of his songs, such as "Lochloosa" and "Brighter Days," being sung all around me.
Luther Dickinson, co-founder with brother Cody of North Mississippi Allstars, rarely sits still.  Dickinson laid down his first guitar licks at age 14 on the the Replacements' Pleased to Meet Me (produced by father Jim) in 1987.  Along with starting NMA, in the late 1990s, Dickinson played Alan Lomax for Otha Turner, producing two albums of the 90-something's unique fife and drum blues that was once a common backwoods Mississippi music form.  Since then, his frenetic musical exploration has led him to take over for several years as lead guitarist for the Black Crowes, and, along with brother Cody, join forces with John Medeski and Robert Randolph to record as The Word in 2001, and to work and tour with John Hiatt.  In 2009 Luther got together with a few friends to record Onward and Upward in honor of his recently deceased father under the name of Luther Dickinson and the Sons of Mudboy, and in 2010, along with bluesman Alvin Youngblood Hart and Squirrel Nut Zipper Jimbo Mathus, he formed the South Memphis String Band to pursue a more organic jug-band blues sound. As if that wasn't enough, in 2012 he recorded an inspired album of solo acoustic guitar, Hambone's Meditations.  That year, he also worked on a collaboration with fellow guitar slingers David Hidalgo of Los Lobos and Mato Nanji of Indigenous, 3 Skulls and the Truth.  Last month, he released his second solo album, Rock 'N Roll Blues, which has been well received.  His performance with the Assembly features songs from his two solo albums, including the humorous "Yard Man."
Osborne's journey into the vanguard of southern soul songwriters began in Sweden, where, as the son of a jazz musician, he became enamored of American roots music, eventually moving to New Orleans around 1990.  There, he has established himself among the Crescent City's musicial elite, collaborating frequently with his close friend, the eminent swamp blues-rocker Tab Benoit, and releasing more than a dozen solo albums since 1995.  Among his career highlights are 2001's Ash Wednesday Blues and 2012's Black Eye Galaxy.  Osborne is an exceptional guitar slinger, capable, it seems, of masterful licks in almost any musical style.
Broussard hails from Lafayette, LA, where he came from a musical family.  Growing up, he developed an affinity for rhythm and blues in the tradition of Otis Redding.  He developed his own crusty vocal style that carries his songwriting along perfectly.  Barely 20 when he recorded his first album, Momentary Setback, in 2002, Broussard has released a half dozen more solo albums in the last dozen years and continues a busy touring schedule.
On the Southern Soul Assembly tour, the four songwriters showcase their talents in an intimate, informal style. Their songs and styles are distinctive. Some of the numbers are totally solo by one of the artists. On others, all four join in. The Southern Soul Assembly is no Traveling Wilburys – they haven't secluded themselves at Dickinson's barn to write original songs. Rather, they're trading their own songs, enjoying one another's company, and bringing the audience along for the ride. On their common musical journey there are some soaring moments, some heartfelt laughs and lots of toe tapping. The Assembly tour is a great way to get a taste of some great songwriters in their prime.
---
About the author:
Bill Wilcox is a roots music enthusiast recently relocated from the Washington, DC area to Philadelphia, PA and back again.
---