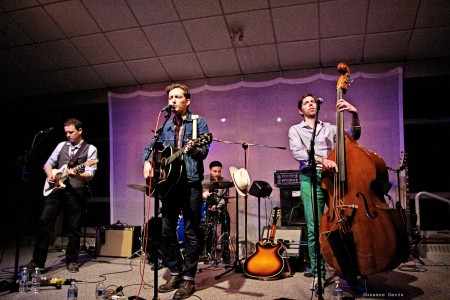 If you were to waltz into a Girls, Guns, and Glory show in Boston, you might think you were dreaming. Ward Hayden on stage seems like he walked out of a honky tonk. He wears the hat, has the mannerisms, hell he even smiles like a classic country singer.
Small town Franklin MA and their Circle of Friends Coffeehouse at a Univeralist Church, couldn't contain the country spirit. Ward Hayden and the boys brought it.
Oh and that's before you hear the guy sing. He can transform any tune into a honky tonk classic. And the tunes he does write, well they fit the motif. My favorite, "All the Way Up to Heaven" is catchy and singable and lots of fun. People who say they don't like country . . .  will be converted, if they're open-minded. But you know we already do like it here at Twangville. It's just a rare bird in the Boston area . . . gotta keep your eyes out to spot it.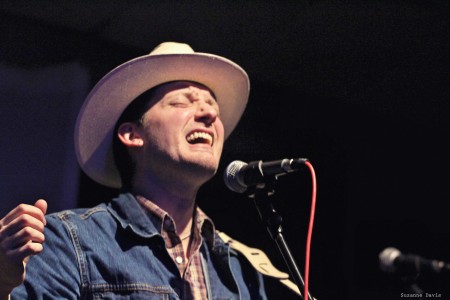 Oh and the band, well they can play. Chris Hersch plays an authentic sounding country style electric. He doesn't overpower the lyrics or melody, but seemingly comes in just when needed to accentuates the song. Just like a guitarist should.
Another interesting song, Centralia PA, is about a continuous mine fire in the Keystone State since 1962. In fact the town is abandoned. Ward shows some of his best country crooning in telling this story.
Many others show varying facets of Ward's storytelling, the band's aesthetic, and just a fun time. Covers and originals are often hard to tell apart. This is not a criticism but shows how Ward brings the songs to life and puts his mark on them. Any originals that sound this good next to a Hank Williams tune are fine with me.Don't know if I've heard a better cover of a Hank Williams song (and Ward's done several). And he's from Scituate, Mass to boot. They seem like a band that be at home in Nashville. But we're lucky enough to have them in Beantown.
Not to mention, Amy Black. A southern transplant, who now calls Somerville home. She's got a great voice and lots of great songs. She's an up-and-comer for sure.
Photos by Suzanne McMahon
---
About the author:
Jeff is a teacher in the Boston area. When not buried correcting papers, Jeff can be found plucking various stringed instruments and listening to all types of americana music.
---