"I started out the night with good intentions, but ended up getting sideways drinking wine…"  Clay McClinton does a cover of his dad's most famous song, Victim Of Life's Circumstances, about halfway through his latest release, Bitin' At the Bit.  It's not only a welcome bit of deja vu, it also serves as a convenient proxy for a bunch of good songs, some of them covers and some written by the younger McClinton and his writing collaborator for about half of the album, the legendary Gary Nicholson.
The record kicks off with a couple of outlaw-style country songs, Wildflowers and Stories We Can Tell that invoke a certain Texas style of country music.  Somehow they just naturally set up the next tune, Beer Joint, with its observation that "I'd rather do it at a beer joint, if you can't party what's the point."  Then a little further down the set list comes Hydrated, and a rationalization that all the water in beer and the vegetables (corn) in beer mean that drinking must be good for you.  By this time McClinton really has you hooked with the aforementioned Delbert cover and a fabulous take on the 60's hit Just Dropped In (To See What Condition My Condition Was In).  Just when you think it can't get any better, the band launches into Poison Love, the Tex-Mex standard-bearer made famous by Doug Sahm.
McClinton adds a good bit of balance to the party music with several ballads.  Sound Of A Small Town is just that.  What A Little Love Can Do is something that almost sounds out of place anywhere except central Texas with it's mix of accordion and guitar.  The album finishes up with a haunting, almost anthemic, tribute to Woody Guthrie, Bound For Glory.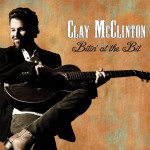 The summary of the whole record is that Clay McClinton and his collection of writing and playing friends have managed to capture on record the fun and diversity that a night of bar hopping and music listening in Austin is like.  Of course he doesn't cover everything you're going to hear in a town with such a rich musical heritage, but damn if he doesn't come pretty close.
---
About the author:
I've actually driven from Tehatchapee to Tonopah. And I've seen Dallas from a DC-9 at night.
---