Wikipedia defines Americana as "artifacts related to the history, geography, folklore and cultural heritage of the United States."  By that, the latest effort from The Band Of Heathens is about as close to a definitive musical interpretation of Americana as you can get.  One Foot In The Ether has a little something for everyone who's been in love with some portion of the music scene in America.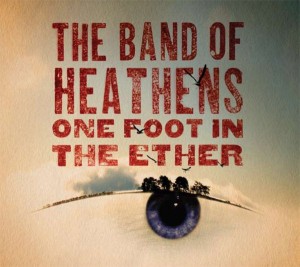 The 3 songwriters in the band, Ed Jurdi, Gordy Quist and Colin Brooks, provide a wonderful buffet of styles and stories.  The album opens with L.A. County Blues, an interpretation/commentary on the life and times of Hunter S. Thompson, specifically the pinnacle of gonzo journalism Fear and Loathing in Las Vegas.  As part of the exploration of the seamier side of our culture, they also cover Gillian Welch's Look At Miss Ohio: "she wants to do right, just not right now".  And the most bluegrass-influenced song in the album, Right Here With Me, includes the admonishment "don't touch the bed" referring to cheap, roadside motels.
If there's one common musical thread in the album it's a nod to the spiritual lineage of much of America's home grown music.  This pops up in songs as diverse as the breezy, Allman Brothers-like ode to inner peace and zen acceptance, Hey Rider, to the Sunday morning Baptist church, rhythm and blues inspired, Shine a Light.  There also seem to be a few nods to the Lowell George era Little Feat in You're Gonna Miss Me and Somebody Tell The Truth.
Rounding out the musical genre-spanning selection of songs are Golden Calf, a Tom Waits kind of whiskey-and-cigarettes vocal arrangement, and Let Your Heart Not Be Troubled, a country blues ballad.
The Band Of Heathens previous album garnered all sorts of awards and spent some time at the top of the Americana music charts.  The bar was pretty high for a follow up, but One Foot In The Ether easily meets the mark.  If you're a fan of albums that can't be pigeonholed into a single musical style, you're going to love One Foot In The Ether.
---
About the author:
I've actually driven from Tehatchapee to Tonopah. And I've seen Dallas from a DC-9 at night.
---