Every once in awhile, there is an artist whose album is so anticipated by everyone in the Twangville Posse that a few of us pile on for a team review. Put Sarah Borges' "Radio Sweetheart" into that category.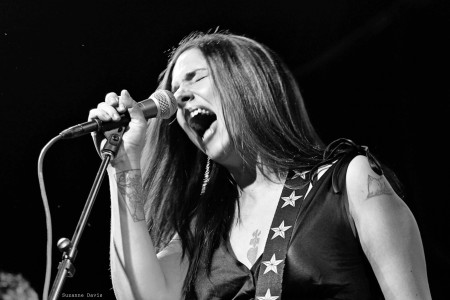 SUZANNE'S TAKE
There's one word to describe Sarah Borges: BADASS. When I was growing up, I always had dreams of being a "rocker chick" with a band. Sarah embodies exactly what I had in mind. She's got a raspy voice, awesome tattoos, and a hilarious stage persona with great storytelling skills. We at Twangville were lucky enough to have her headline our 2013 showcase in Boston.
Borges' latest album doesn't disappoint. Radio Sweetheart is a rollicking, bluesy, and rocking good time. It starts with the super catchy "Girl with a Bow" and stays strong throughout. Other standout songs are "The Waiting and the Worry" and "Hands and Knees" before ending with the knockout "Record on Repeat." I dare you to listen to that song and not move your head to the beat. DARE YOU!
I've been rocking out to this album frequently since last June when I received it through Twangville. Trust me, it's been worth the wait for the rest of you.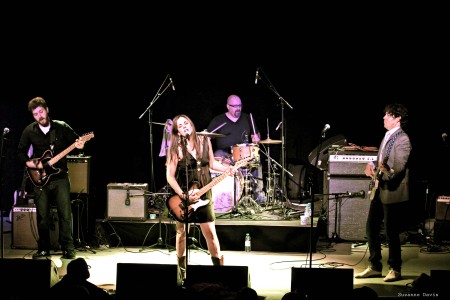 MAYER'S TAKE
They say that what doesn't kill you makes you stronger.  I'd submit that as an alternate title for Sarah Borges's latest release (actually called 
Radio Sweethear
t).After many a year riding the label train and criss-crossing the country in a touring van, Borges took a break a few years back.  Fortunate for all of us she's back.  Even better, she's returned with her best album yet.In many respects this is her most realized work and the perfect showcase of her spirited personality.  Earlier in her career, labels pushed her to play the genre game, moving from the rootsy 
Silver City
 to the glossy rock of 
The Stars Are Out
.
Working with producer Steve Berlin (of Los Lobos fame), Borges runs the genre gauntlet with flair on Radio Sweetheart.  She moves effortlessly from the guitar-driven pop of "Girl with a Bow" to the boozy ballad "Think of What You've Done."
And lest anyone think she doesn't rock, I submit the chugging blues of "Heavy Dreams" and the raucous closer "Record on Repeat."
Welcome back Sarah, we've missed you.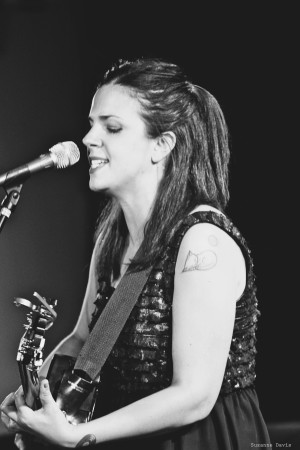 SHAWN'S TAKE
Most musicians are pretty outgoing and can project personality pretty well.  How else could they get on stage and control a packed crowd excited to hear the music.  Or even worse, keep the connection going with a sparse audience on a Monday night in a new town.  A few artists really transcend that capability and really strut their stuff, not just controlling the show, but owning the house.  Mick Jagger and Steven Tyler are perhaps the best known examples.  It's not limited to rock and roll, though.  Aretha, back in the day, certainly did that.  Pete Seeger did too.  For my money, you can add Sarah Borges to the list.
On her latest album, Radio Sweetheart, that fierceness and drive comes through in a number of the songs.  It starts with the opening cut, Girl With A Bow, and its familiar Borges mash up of punk, indie, and Americana.  Think Of What You've Done also wears those clothes.  The Lloyd Price number, Heavy Dreams, punches through with more of a roadhouse pace, due in large part to the walking bass line.  Record On Repeat leans more to the punk side of things with 2 1/2 minutes of intensity and a hook that could just have easily been a Ramones song.
There are a couple of slower numbers on the disc that help broaden the sound; the title track and Big Bright Sun.  I thought there was a little bit of do-wop influence there, but still staying close to the sound of the rest of the album.  And that sound is rock and roll from one of the best show women in the business.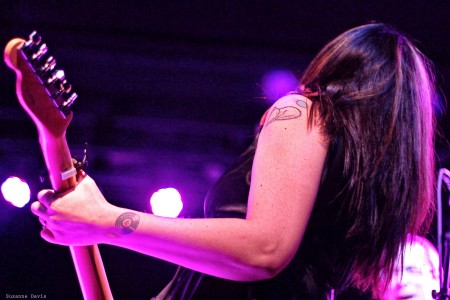 ---
About the author:
The Twangville Posse listens to music. Lots and lots of music.
---