Certain Circles, the latest release from Austin musician Chase Gassaway, should be listed as a treatment for SAD (Seasonal Affective Disorder).  Although he writes about typical songwriter topics like love and angst, he manages to put an optimistic sound to them.  And then add to that a few of his songs are just unabashedly happy subjects, and you have a combination that elevates your mood.
Feeling Good is certainly the flag-bearer for the content on this record.  It's not just the lyrics, but even Gassaway's choice of instruments, like his ukelele, contribute to the overall vibe of the song.  Bright Shiny Day is in the same boat, with a nice contribution from the horn section to bring a nice pop sound to the tune.  The opening cut, Turn This Thing Around uses those same forms, but with more of a mariachi feel.  Prove has a nice strumming guitar, island sound.
Even some of the songs that are a little more introspective still manage to convey a positive message.  Fast Machines tells a love that "I don't need no fast machines or TV screens if I got you."  Hear Love has an indie feel with more drums than the rest of the album, but nonetheless talks about not getting hung up on the past and living life right now.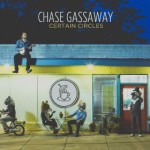 Having listened to the record several times now, I've come to realize that what really makes the album tick is Gassaway's own production.  By using the right mix of instruments, sound, background vocals, and lyrics he's really made something that more than the some of its parts.  And that makes Certain Circles a fun album for your winter listening pleasure.
---
About the author:
I've actually driven from Tehatchapee to Tonopah. And I've seen Dallas from a DC-9 at night.
---