If the releases below are any indication, 2014 is shaping up to be a musical embarrassment of riches. What releases, whether on this list or not, are you most excited to hear?
---
HARD WORKING AMERICANS by HARD WORKING AMERICANS
(21 January on Melvin Records/Thirty Tigers Records)
What happens when a group of musicians — Todd Snider, bassist Dave Schools (Widespread Panic), guitarist Neal Casal (Ryan Adams/Chris Robinson), keyboardist Chad Staehly (Great American Taxi ) and drummer Duane Trucks (King Lincoln) — get together for a jam session? Well, something like this. The Americana/jam band super-group of sorts take on songs by Randy Newman, Lucinda Williams, Hayes Carll, Gillian Welch & Dave Rawlings and Brian Henneman (The Bottle Rockets), among others.
---
PARKER MILLSAP by PARKER MILLSAP
(4 Feb on Okrahoma Records)
I stumbled across Millsap in Nashville last fall when I crashed his
CMT Edge taping
. His blend of bluegrass, gospel and folk crackles with a vibrant energy. He is definitely one to watch in 2014 and beyond.
---
SMALL TOWN HEROES by HURRAY FOR THE RIFF RAFF
(4 Feb on Okrahoma Records)
New Orleans musician Alynda Lee Segarra and the Riff Raff crew serve up music that is best described as indie-folk. Their songs are true to the indie rock ethos, packaged in mighty fine folk arrangements.
---
SOMEWHERE ELSE by LYDIA LOVELESS
(18 Feb on Bloodshot Records)
Loveless teased us last fall with a five-song ep. Now we're ready for what will undoubtedly be a raucous and rockin' full-length affair.
---
SIDESHOW LOVE by WILL KIMBROUGH
(18 Feb)
Musical journeyman Kimbrough has spent the past few years playing with Emmylou Harris, Rodney Crowell and a host of others. Fortunate for us, he is stepping forward with his first solo album in four years. We're expecting him to pick up right where he left off with 2010's Wings – plenty of splendid pop melodies wrapped in rootsy Americana arrangements.
---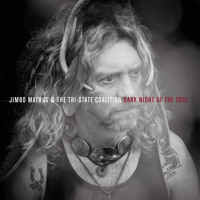 DARK NIGHT OF THE SOUL by JIMBO MATHUS
(18 Feb on Fat Possum Records)
Mississippi musician Mathus is wasting no time following up last year's mighty fine White Buffalo. Word on the street is that his forthcoming release takes a darker and rock-oriented path with, as Mathus describes it, "more ultra chrome and less sepia tones."
---
HALF THE CITY by ST PAUL AND THE BROKEN BONES
(18 Feb on Single Lock Records)
The Birmingham Alabama-based sextet got soul. 'nuf said.
---
ENGLISH OCEANS by DRIVE-BY TRUCKERS
(4 Mar on ATO Records)
Any year with new music from the Truckers is bound to be a good year, right? Well Messrs Hood and Cooley are back with another character-driven Southern rock and roll record. The songs are just about evenly split between the two writers. We're particularly excited to hear the opening track called "Shit Shots Count."
---
OUT AMONG THE STARS by JOHNNY CASH
(25 Mar on Legacy Recordings)
Cash recorded these songs in Nashville back in the early 1980's and they've languished in the vault ever since. We're counting down the days until their March release. The legend continues.
---
TBD by ARCHIE POWELL AND THE EXPORTS
(April)
Powell's Great Ideas in Action was one of my favorite albums from 2012, filled with glorious power pop melodies delivered with cranked up guitars and an in-your-face intensity. I'm expecting more of the same with their forthcoming release. Bring it on, gents!
---
TBD by MATTHEW RYAN
(TBD)
Ryan traveled to upstate New York to work with producer Kevin Salem. Sounds like the recipe for a great rock record with plenty of cranked-up guitars. We're salivating at the prospect.
---
TBD by JOE FLETCHER
(TBD)
Fletcher has taken his time prepping his forthcoming album. Originally scheduled for a 2013 release, Fletcher's incessant touring has kept him from putting the final touches on the collection. We've no doubt that it will be well worth the wait.
---
TBD by JOHN FULLBRIGHT
(TBD)
It's going to be tough for Fullbright to top 2012's brilliant From the Ground Up, but we've no doubt that he is up to the challenge. We're expecting another outstanding collection of incisive songs and a sound honed by a year and a half of non-stop touring.
---
Photo credits: Scott Simontacchi (Matthew Ryan); Jesse Golding (Joe Fletcher)
---
About the author:
Mild-mannered corporate executive by day, excitable Twangville denizen by night.
---