Macy Blackman's piano playing is a treat for those who enjoy swampy, down home boogie-woogie. His new album, I Didn't Want To Do It, takes a page from Dr. John's playbook, featuring spirited New Orleans style boogie-woogie piano – but without the trippier side of the Dr. John experience.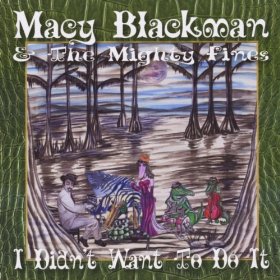 Originally from Wilmington, Delaware, Blackman did not have much exposure to the sounds of New Orleans. But in the mid-1970s, playing with drummer Charles "Hungry" Williams, Blackman was exposed to a new world of music that eventually led to an opportunity to meet and perform with Dr. John. Echoing piano legends like Fats Domino, Huey Smith and Dr. John, Blackman adopted a playing style that colors his music to this day.
Blackman lived in New York City until 2000, working as a performer, music instructor, and piano technician. He moved to the San Francisco Bay area to teach classes at the University of California Berkeley and also recharged his performing career. He recorded his first album with the Mighty Fines, 24 Hours a Day, in 2005.  Their second album, You Just Don't Know It, was released in 2011.
I Didn't Want To Do It contains no originals, but it is a strong collection of covers and traditional tunes that is bound to tease a smile from the most relentless curmudgeon.  Blackman's own colorful vocals are complemented by the saucy lead vocals of Nancy Wright on several numbers.  The Mighty Fines feature Ken "Snakebite" Jacobs, a Hurricane Katrina refugee, and Wright on saxophones, as well as Bing Nathan on bass and Jack Dorsey and Adam Goodhue on drums.
---
About the author:
Bill Wilcox is a roots music enthusiast recently relocated from the Washington, DC area to Philadelphia, PA and back again.
---