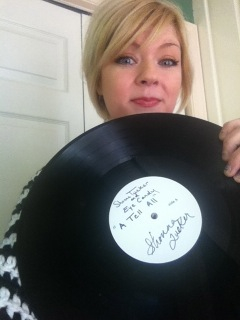 This ranks high on the list of the coolest give-aways that we've done.
To celebrate the release of A Tell All, Shonna Tucker and Eye Candy are offering one lucky Twangville resident a special test pressing of the album on vinyl. Even better, the vinyl is packaged in an (empty) case of Old Milwaukee that has been signed by the band. How awesome is that?!
What I love about this give-away is how well it fits with the album. From the anthemic "When Jimmy Came Home" to the folksy shuffle of "Arielle", this is the kind of music that makes you want to kick back with a group of your closest friends and a case of beer. Or maybe a keg.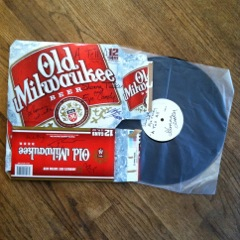 We're going to follow Tucker's lead on this one. There's beer-drinkin' music and there's beer that's made for music. To be eligible to win, post a comment with your favorite beer. If you're up to the challenge, also let us know the perfect song to accompany your beer selection. A winner will be selected at random when the contest ends on Wednesday, 20 November 2013 at midnight ET.**
As you consider your selection, here's Tucker and Eye Candy performing "Old Fashioned" in Tucker's living room.
---
**By participating in Twangville contests you agree to allow Twangville to post the winner's name and city on our web site. We pass along the winning addresses to the record company or appropriate party for fulfillment. Twangville will not use your address for any other reason. Contest open to US residents.
---
About the author:
Mild-mannered corporate executive by day, excitable Twangville denizen by night.
---