Samantha Fish is a precocious young guitarist and singer with the wind – the howlin' black wind – at her back. At 24, the Kansas City native already has a Blues Music Award under her belt for Best New Artist Debut for her 2011 album Runaway.  Along with British blues-rocker Dani Wilde and Otis Taylor's bassist daughter Cassie, she also recorded the catchy Girls With Guitars in 2011 and toured in both Europe and the United States as a threesome, providing great exposure for her solo career.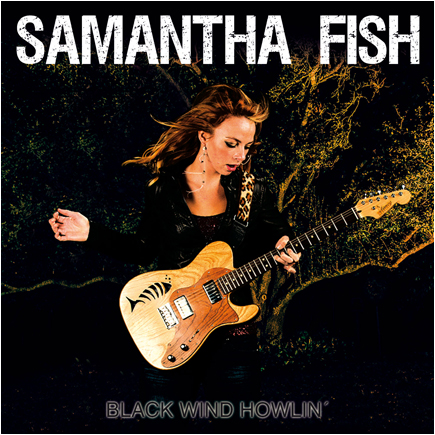 On her sophomore solo effort, Black Wind Howlin', Fish plays a smokin' hot guitar.  She also brings a husky but clear singing voice to the mix.  Unlike many blues women, she doesn't sound like she smokes a pack of Camels a day, but she can belt out the blues with the best of them.
Produced by Royal Southern Brotherhood member and solo artist Mike Zito, Black Wind Howlin' features 11 original songs and a cover of Howlin' Wolf's "Who's Been Talking."  The opening rocker "Miles To Go," inspired by a relentless tour schedule, sets the tone for the blues rock blitz that dominates the album.   Other highlights include "Go To Hell," co-written by Zito, which presents a sort of anti-duet from the male and female perspectives, "Sucker Born," which includes some nice electric slide guitar work.  "Over You" slows it down for a bit, and on the closing number, "Last September," Fish demonstrates her surprising versatility with a straight up catchy country tune.  Mike Zito provided vocals and guitar on the album, along with Yonrico Scott on drums and Charlie Wooton on bass.  Paul Thorn on vocals, Johnny Sansone on harmonica and Bo Thomas on fiddle also contributed to the album.
---
About the author:
Bill Wilcox is a roots music enthusiast recently relocated from the Washington, DC area to Philadelphia, PA and back again.
---