One of my favorite recent discoveries from the random music that finds it's way to me is an EP from earlier this year of the Wicked Saints, Don't Kill the Blackbird.  So I was happy when Paul McCarty, leader and bedrock of the band, sent me a note the full length version was due out shortly and was chock full with 13 songs and nearly an hour of music.
Although there's a lot of good production and musicianship on the album, what keeps drawing you back to this disc is the interplay between McCarty's vocals and those of singer Brent Michelle.  McCarty has a warmth, tinged with a bit of gravel, in his vocals that have a kind of fireside chat quality.  Michelle, on the other hand, has a voice that soars and swoops above the landscape like a mystical bird catching the thermals to stay aloft–always a presence, but always out of reach.  She's no doubt a good vocalist on her own, but the weaving of their styles really sets the Wicked Saints sound apart.
The songs themselves are pretty good, too.  River Of Fire nicely captures the mix of Americana, Cajun, and indie sounds that I suppose best capture the overall sound of the album.  The title track contains some nice subtle instrumental tracks as it admonishes us to, well, be kind to blackbirds.  Or maybe there's just a metaphor there that I missed completely.  My notes on Anything Could Happen say Springsteen–I don't know exactly why, it's not that kind of anthemic arrangement I associate with the Jersey shore, so I guess it's just the rock and roll lyrics about how life is a journey.  Baby Gray Bird showcases those soaring vocals I mentioned earlier.  The one slight disappointment I had was album closer Pavan.  On the EP I noted a subtle discordance I liked that didn't seem to make it to the final mix here.  That discordance does raise its head on Set You Free, though.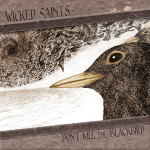 Don't Kill the Blackbird is an album that's easy to enjoy.  It has solid songs, solid musicians, and solid production.  There are all kinds of little audio candy throughout, both vocal and instrumental, that add to the foundation and make this something you want to listen to again and again.  Now they just need to work on their videos.
---
About the author:
I've actually driven from Tehatchapee to Tonopah. And I've seen Dallas from a DC-9 at night.
---