The first words you hear on The Muse, the latest release from The Wood Brothers, are, "wastin' my mind on you."  That lyrical slap in the face sets the stage for the next 45 minutes.  You can listen to this album and appreciate the pretty face and swagger as it walks down the street.  But listen to it a few times without a lot of distractions and you'll appreciate it for its mind and good personality.
First of all, there's the beautiful wall of sound.  Sure there are some guest musicians, but by and large this is just brothers Chris Wood (of Medeski, Martin, & Wood fame), Oliver Wood, and musical soulmate Jano Rix.  Oliver plays mostly guitar, with a way of playing lead by strumming that's  unique to the Wood Bros sound. Chris builds the solid foundation with his bass.  Jano fills in all the gaps with drums and piano and various percussion via his "shuitar" (yep, that's the way you say it).  Together, it fills the room with an almost stadium-sized presence.
Then you start catching all the subtleties.  They do some amazing things with time, letting songs ebb and flow to set a tone.  Honey Jar maybe does the best job of that when it slows down to a nasty juke joint dirty dance and then pops back to wholesome sweaty gyrations.  Sing About It, a light-hearted number about singing your troubles away, but with a little New Orleans rhythm, carries a little of that torch, too.  The same New Orleans by way of Memphis and Muscle Shoals style also contributes to opener Wastin' My Mind, Who the Devil, and a sweet waltz to finish the disc, Firewater.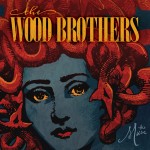 The Muse credits Zac Brown as executive producer and Buddy Miller as producer, and guest guitarist.  Miller in particular tends to lend his talent when he can turn something good into something great.  This record fulfills that premise.
---
About the author:
I've actually driven from Tehatchapee to Tonopah. And I've seen Dallas from a DC-9 at night.
---