I can't say I ever thought about going to a smoky jazz lounge and hearing something twangy.  After listening to Ali Holder's solo debut, In Preparation For Saturn's Return, I can now picture that happening.  There are certainly artists fusing jazz and country or bluegrass.  See our coverage of Phoebe Hunt's latest for an example, and oh by the way she plays violin on this record and contributes vocals to several songs.  But it's Ms. Holder's smoky voice that really pushes this into Village Vanguard or Green Mill Lounge territory.
Falling Up starts the disc with a Miles Davis-kind of cool number that just oozes hipness, not to mention some nice instrumental riffs including violin and trumpet.  I Saw A Wolf features some nice organ parts and a vocal duet with guitar Daniel Thomas Phipps.  Blood In the Basement is the darkest song on the album with Holder singing about "just trying to wrap my head around this thing we call love."
For more of a twangy flavor I recommend Drinking Double.  With it's steel guitar presence it has that cheating-heart feel that any Hank Williams fan will appreciate.  All With Your Help is a little funkier, but with some nice picking.  Mourning Dove picks up some Appalachian sounds and with a production value that comes across as having the band sitting around your living room, very nice.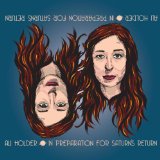 In Preparation For Saturn's Return refers to an astrological event associated with one's transition to adulthood and maturity.  It's a nice milestone for a songwriter to celebrate with stories of what life has taught them.  Ali Holder shares some of her perspective, supported by a crack team of musicians, and turns the whole thing into a really enjoyable album.
---
About the author:
I've actually driven from Tehatchapee to Tonopah. And I've seen Dallas from a DC-9 at night.
---