North Mississippi Allstars has been tearing it up for 17 years. From their studio recordings, with their unique blend of traditional roots and edgy rock, to their thundering live performances, featuring drumlines and bizarre instrumentation from electric washboards to cigar box guitars and a stringed instrument made from a coffee can on a stick, the band has forged a unique path and has built a growing reputation fueled by relentless innovation.
NMA was formed in 1996 by brothers Cody and Luther Dickinson after their punk metal band DDT had run its course.   The sons of respected Memphis music producer Jim Dickinson, Luther and Cody grew up with a familiarity with the blues musicians of northern Mississippi, such as R.L. Burnside, Junior Kimbrough and Otha Turner.  As the NMA project took off, Luther played Alan Lomax for Turner, producing two albums of the 90-something's unique fife and drum blues that was once a common backwoods Mississippi music form  – Everybody Hollerin' Goat and From Senegal to Senatobia.  Luther's fascination with fife and drum has echoed throughout NMA's recording projects, starting with Shake Hands with Shorty in 2000, which featured Turner as a guest artist, through Electric Blue Watermelon in 2005, which featured Turner's teen granddaughter Sharde Thomas (who can also be heard on Corey Harris' Mississippi to Mali) on fife, to the band's new World Boogie Is Coming, which again features Thomas and snippets of Turner.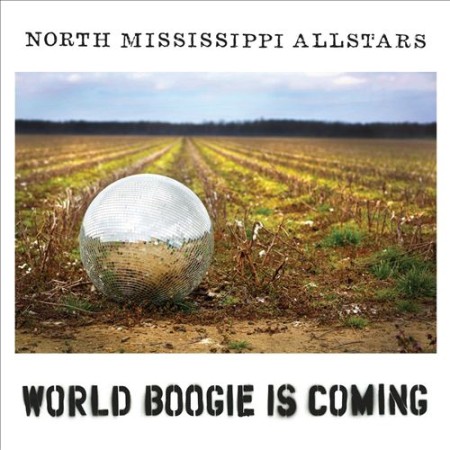 Luther is the usual frontman for the powerfully talented roots rock outfit (although in concert he will sometimes join the rhythm section and let multi-instrumentalist Cody take over lead guitar or electric washboard duties).  Luther Dickinson laid down his first guitar licks at age 14 on the the Replacements' Pleased to Meet Me (produced by father Jim) in 1987.  Since then, his frenetic musical exploration has led him to take over for several years as lead guitarist for the Black Crowes, and, along with Cody, join forces with John Medeski and Robert Randolph to record as The Word in 2001, to work and tour with John Hiatt, in 2009 Luther got together with a few friends to record Onward and Upward in honor of his recently deceased father under the name of Luther Dickinson and the Sons of Mudboy, and in 2010, along with bluesman Alvin Youngblood Hart and Squirrel Nut Zipper Jimbo Mathus, he formed the South Memphis String Band to pursue a more organic jug-band blues sound.  As if that wan't enough, in 2012 he recorded an inspired album of solo acoustic guitar, Hambone's Meditations, that was reminiscent of John Fahey and Leo Kottke.   Meanwhile, drummer and keyboardist brother Cody has pursued his own side project, Hill Country Revue, and gotten into music production for television and films.
All the while, NMA has chugged along, touring sporadically and releasing studio albums ranging from more aggressive rock recordings, such as Hernando (named after the brothers' hometown) in 2008 to the rootsier, more varied Keys to the Kingdom in 2011, which featured contributions from Hart, singer Mavis Staples, and Ry Cooder.  The common thread through all the albums has been the brothers' reverence for musical traditions and superb musicianship.  Music, including blues music, inevitably evolves and takes on new elements as artists nurture it and shape it, and NMA may be one of the most important elements in the evolution of blues music on into the future.
The thumping, throbbing World Boogie Is Coming continues North Mississippi Allstars pattern of excellence and innovation and it may be their best yet (though Electric Blue Watermelon remains my personal favorite).  The album title comes from Jim Dickinson's expression to describe the connectedness of musical patterns.  With that philosophical thought, and the care with which the brothers execute the music (which is dedicated to Jim Dickinson, Sid Selvidge, Lee Baker, R.L. Burnside, Otha Turner and T-Model Ford), it's also a lot of fun.  From the gritty opening, "JR" and its rousing second track, "Goat Meat," and then "Rollin' and Tumblin'," on which Luther plays the coffee can instrument, the album lays down an unmistakable message that the traditions laid down by musical legends are enjoyed as well as revered.  The album is a joy ride from start to finish, and audiences will thrill to the surprises pulled off during the concert tour to promote it.  Other highlights include the funky "Snake Drive," "Meet Me In the City," which provides a melodious island among otherwise driving rock and blues tunes, "Shimmy," which spotlights the fife and drum sound combined with NMA's creative signature and leads right into "My Babe" and "Granny, Does Your Dog Bite," and the slide jamming "Jumper On The Line."
North Mississippi Allstars has had many collaborators on its six previous albums, many of whom were back for World Boogie Is Coming, including former band bass player Chris Chew, and R.L. Burnside relations Duwayne and Garry, along with Hart and Thomas.  Joining the regulars were Led Zeppelin's Robert Plant on harmonica and Lightnin' Malcolm, who is currently touring with the band, on guitar and bass.    
---
About the author:
Bill Wilcox is a roots music enthusiast recently relocated from the Washington, DC area to Philadelphia, PA and back again.
---