Music enthusiasts at the 2013 Philadelphia Folk Festival got to see some great moments.  They got to see Fairport Convention folker Richard Thompson rock out as if making a statement that he can shred with the most aggressive electric guitar slingers in the land.  They also got to see a young ukelele virtuoso from Hawaii, Jake Shimabukuro, steal the show with an incredible display of musicianship on an instrument many associate with grass skirts and pig roasts.  Some other headliners and notable up-and-comers included avante-garde bluesman Otis Taylor, progressive rock pioneer Todd Rundgren, the extraordinary Carolina Chocolate Drops, Texas swing masters Asleep at the Wheel, Amy Helm (whose tight roots rock set would have made dad Levon proud), bluesmen Jimmy Vivino and Gabriel Butterfield's homage to Gabriel's father Paul Butterfield (featuring standout Philadelphia blues harpist Steve Guyger),  and home-grown Philadelphia roots rock bands Toy Soldiers and the Lawsuits.
Amidst the the tie-dyed fellowship of the Festival, long-time roots master David Bromberg released his new album Only Slightly Mad, which will be widely available in late September.  A familiar face at the Philly Festival, the Wilmington, DE-based Bromberg has had a strange career, with long periods of withdrawal from public performance to pursue his passion as a violin-maker. After starting out as a side man to Jerry Jeff Walker in the 1960s, Bromberg launched his solo career in the 1970s.  Between 1971 and 1980 he released no fewer than ten albums (check out Demon in Disguise and Wanted Dead or Alive for some of his best), but since 1980, he has entered a recording studio only a handful of times. Between 1990 and 2007 he released no records (although his old record company rereleased most of his back catalog and produced a retrospective in 1998). In 2007, he released his 'comeback' album, the all-acoustic Try Me One More Time, which featured a bit more slide guitar playing than his 1970s efforts but otherwise was totally in character. With his 2011 release, Use Me, Bromberg upped the ante, this time calling on longtime associates Levon Helm, John Hiatt, Keb' Mo', Dr. John, Tim O'Brien, Vince Gill, Los Lobos, Linda Ronstadt and Widespread Panic to collaborate. For those who are songwriters, he asked them to write him a song to play on the album; for the non-song-writers, he asked them to produce a number.  Then he performed each number with its songwriter, and collaborated with the non-songwriters.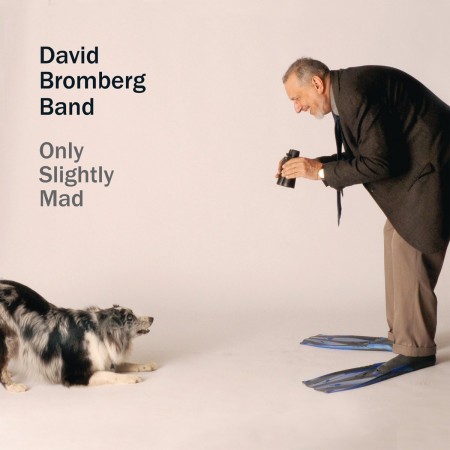 For Only Slightly Mad, Bromberg returned to the formula that made his his 1970s albums so great – which is to say there is no formula at all.  From blues, to bluegrass to rhythm and blues, Bromberg does it all, and his new album covers the full range of his musical interests.  In the liner notes, Bromberg exlained that the album was originally set to be Chicago-style blues but producer Larry Campbell proposed making an album similar to Bromberg's 70s classics, with all the genres Bromberg likes to play.  Thus, the album opens with the blues that was intended all along, with Blind Willie Johnson's "Nobody's Fault But Mine" and Big Bill Broonzy's "Keep on Drinking" but makes an about face turn to country music with David Wiffen's "Drivin' Wheel" and then pivots right back into the blues with "I'll Take You Back" by Rick Estrin (of the Nightcats).  Then the album spins into what Bromberg calls "an old English drinking song … which I wrote" followed by a medley of jigs.  It's all old fashioned fun with the humor and musicianship fans came to expect from Bromberg in his prime – a prime that is apparently ongoing.
Over the years, Bromberg has earned the respect of a battalion of great musicians.  His regular band includes extraordinary guitarist Mark Cosgrove, fiddle and mandolin player Nate Grower, Butch Amiot on bass, Josh Kanusky on drums, John Firmin on sex and Peter Ecklund on trumpet.  Joining him on Only Slightly Mad were Larry Campbell on guitars, Harvey Tibbs on trombone, and Brian Mitchell on keyboards, with guest appearances by John Sebastion on harmonica, John McEuen on banjo, Johnny Duke on electric guitar,  and vocals from John Roberts, Tony Barrand, Nancy Josephson, Kathleen Weber, Amy Helm and Teresa Williams.
---
About the author:
Bill Wilcox is a roots music enthusiast recently relocated from the Washington, DC area to Philadelphia, PA and back again.
---