Listening to the latest release from The Greencards, Sweetheart Of the Sun, I just couldn't shake the feeling that one of the band leaders, Kym Warner or Carol Young, must have inherited the reincarnated musical spirit of Nick Drake.  Maybe another way to explain it is if Gillian and Dave borrowed some production techniques from Pink Floyd.
If you've been a long time Greencards fan, Sweetheart Of the Sun continues the path they started down with The Brick Album.  There's more of the etherealness in the arrangements and layers of vocals and instruments and less of the bluegrass origins of the band.  This is still Americana, though.  The fiddle parts in Traveler's Song perfectly complement Warner's mandolin.  Paddle the Torrens and Ride & Sway are both instrumental pieces with some of the uptempo pacing you get in a live Greencards performance.  Fly, the final piece in the album, wraps all of those up nicely with vocals and Celtic influences that segue into an acoustic instrumental finale that leaves you longing for more.
If you're new to The Greencards, this is your advanced course in folk music listening.  Helped no doubt by Grammy Award-winning producer Gary Paczosa, Once and Gone manages to convey this simple Appalachian like spirit, yet there's a richness that's beguiling and far from simple.  Black, Black Water has this catchy little melody, that as you listen further you realize it's built with layer upon layer of sound.  Boxcar Boys takes a little bit of flamenco influence and constructs on top of it the complete mood of a summer day in a Spanish village.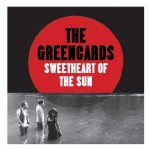 Sweetheart Of the Sun probably wouldn't make my desert island tape, but in this day of multi-gigabyte iPods, that's kind of an outdated idea anyway.  And believe me, this latest album from The Greencards will enrich the collection of any folk or acoustic music fan.
---
About the author:
I've actually driven from Tehatchapee to Tonopah. And I've seen Dallas from a DC-9 at night.
---