Some songs, and albums, take you to a particular time in your life, junior year in high school maybe, or the first summer of backyard barbecues in your first home.  Others take you to an era, the 30's of NY with early Duke Ellington, or Bakersfield in the early 60's with Buck Owens.  And some take you to a place–how can you think of anything but New Orleans when you hear Professor Longhair's Tipitina?  The sophomore release from Austin-based Ghosts Along the Brazos, When It Rains It Pours, falls into the last category.  For reasons I can't fully explain it takes me straight to the Hill Country of Texas.
I suppose what really leads me there is the mix of swing and country waltzes and jazz riffs, sprinkled with some Norteno and pop, all rolled into a Friday night dance hall.  Take Down 'n' Lonely, a waltz featuring Connor Forsyth on piano and guest Warren Hood on fiddle.  You can just see the couples on the dance floor, hear the chatter by the bar, and sense the hipsters with their eyes closed just absorbing the vibe.  Part Of the Past takes you there, too, as does the title track.
There's also a couple of serious uptempo tunes.  Corndog Shuffle could have been a Little Feat number with its boogie piano and Kristopher Wade's sweet bass lines.  Beaver Stew is kind of a Junior Brown meets Austin Lounge Lizards song.  My favorite on the album is a bit the outlier; I'll Get Home, with its Randy Newman lyrical hooks and pop sounds.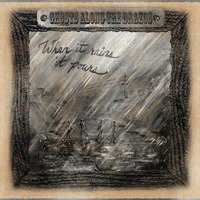 When It Rains It Pours is only 8 songs and 25 minutes, but there's no filler.  If you want to get a sense of,  or just have a reminder, of a warm summer night in Gruene Hall, this is the record for you.
---
About the author:
I've actually driven from Tehatchapee to Tonopah. And I've seen Dallas from a DC-9 at night.
---