Ever wanted to know what life is like as a musician? Curious about how they got their start and where they find inspiration? Interviewer Teddy Goldstein gets the in-depth story from singer-songwriters on his What Happened podcast.
Teddy has a unique perspective: he is a songwriter who spent over 10 years touring America. He brings this experience to the interviews, digging deep into the ups and downs of being a musician. And watch out, he's got a wicked sense of humor that is as entertaining to his guests as it is to his audience.
Beginning this week, Teddy is bringing his podcast to Twangville. And what better way to kick things off than Teddy's conversation with songwriter Stephen Kellogg.
Fresh from his appearance at the Twangville Music Festival, Stephen sat down with Teddy to talk about family, how one continues to write once they have kids, fighting with Time Warner Cable, porn off the side of the highway…and so much more! Plus, he plays a few songs from Blunderstone Rookery, his latest release.
Audio Download: The What Happened Podcast with Stephen Kellogg

Audio clip: Adobe Flash Player (version 9 or above) is required to play this audio clip. Download the latest version here. You also need to have JavaScript enabled in your browser.
---
Want to hear more? Here are some earlier What Happened podcasts.
Audio Download: What Happened Podcast with Dan Bern

Audio clip: Adobe Flash Player (version 9 or above) is required to play this audio clip. Download the latest version here. You also need to have JavaScript enabled in your browser.
Audio Download: What Happened Podcast with Ellis Paul

Audio clip: Adobe Flash Player (version 9 or above) is required to play this audio clip. Download the latest version here. You also need to have JavaScript enabled in your browser.
Audio Download: What Happened Podcast with Josh Rouse

Audio clip: Adobe Flash Player (version 9 or above) is required to play this audio clip. Download the latest version here. You also need to have JavaScript enabled in your browser.
View the full archive here.
---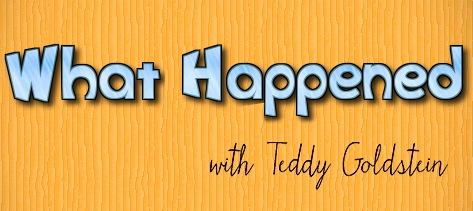 What Happened With Teddy Goldstein: A podcast with singer/songwriters & other types of people. Web | Facebook | Twitter

---
About the author:
Mild-mannered corporate executive by day, excitable Twangville denizen by night.
---