I once heard a comment, that I agree with, at a Calexico concert that anytime there's both a trumpet and a slide guitar on the same stage it's going to be a good show.  Having listened now to the latest from Jonas Friddle & the Majority, Use Your Voice, I'm going to say that the combination of trumpet and banjo belongs in the same category.  Imagine if The Soggy Bottom Boys from O Brother Where Art Thou played the Cotton Club in the 20's.  Try to wrap your head around that, because that's the juxtaposition of genres on this record.
The album is rough half traditional songs with new arrangements, and half new songs from Friddle.  I suppose the traditional songs are where the instrumentation of the group most hits you.  Exemplary of this is Old Mother Logo.  It starts with the classic sound of Friddle's claw hammer banjo and then, suddenly, a French horn bellows its brassy presence.  Surprising?  Yes.  But it's awesome, too.  The most "normal" sounding of the traditional tunes is Keep My Skillet Good & Greasy with the horns doing a sort of New Orleans second line sound that conforms a little more to something you've heard before.  My favorite on the album is Tired Chicken Blues, a country blues number that weaves in a sassy toilet-plunger-muted trumpet and some classic old Hammond organ sound.
The new songs on the record are no slouches either.  Friddle does a superb job of integrating the sounds and arrangements and these could just as easily have been composed 50 years ago and just given a new treatment.  Rabbit is a musically expressive proxy of a rabbit hopping down the lane.  Man Was Made To Fly has the biggest sound on the album, tinged with some gospel influences.  Biscuit Baking Blues is also a stand-out with the background vocals sounding a little like Motown doing a biscuit ad for the radio.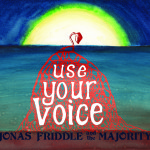 Some days I'm content to listen to my old favorites and music I've known and loved for years.  Other days I really want to hear something new.  When that mood strikes you, go grab some of Use Your Voice and really scratch that itch.
---
About the author:
I've actually driven from Tehatchapee to Tonopah. And I've seen Dallas from a DC-9 at night.
---