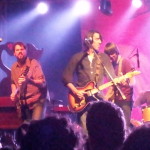 I woke up June 28th and all the signs were there. My ears were ringing. My voice was gone, and my head hurt. It wasn't the flu. I had been to see the Drive-By Truckers the night before. Track 29 is a converted skating rink behind the ubiquitous Chattanooga Choo-Choo Hotel. When the Truckers took the stage, they opened with Mike Cooley singing "Where the Devil Won't Stay". Although casual fans are probably more familiar with Patterson Hood, the vocals were split pretty closely between Hood and Cooley on that night. The stage set had the band standing between the familiar black swans with their sinister red eyes. Over the past two decades, the Truckers music has expanded stylistically, and their fan base continues to grow. Fortunately their approach to live shows has not changed. They have not lost one bit of their edge, and they still tear it up on stage. In fact, Hood told the audience that they had found the master tapes from an early live album that was recorded at The Nick in Birmingham, Alabama. The name of the album is "Alabama Ass Whippin'", and they plan to reissue it in the near future. After revealing the good news, they amped up the crowd with an early classic "Steve McQueen".
Given the show was in Chattanooga, the band practically had an obligation to play "Lookout Mountain". Not surprisingly, when they started hitting the power chords at the beginning of the song the crowd went wild, pumping fists and all. With the Truckers, the live versions of songs often get a different take than the album version. Such was the case with "Used to be a cop". It was unexpectedly my favorite song of the night. The live version of the song really employed guitar riffs that manifested the insanity of a man that was coming mentally unhinged. The energy of the night never let up until the last note. The band then revved it right back up for the encore when they came back and played "Hell No I Ain't Happy". As usual, The Drive-By-Truckers put on one of their usual high energy and infectious shows. "Let There Be Rock"!!
---
About the author:
Chip and his family live in Birmingham, AL. Roll Tide!
---