We've all had this experience.  You're in a park or at a music festival, with song in the air.  You look around and there's some giant of  a man dancing with a tiny child.  All their cares in the world being twirled away into the sunshine.  You just grin, whether at the silliness of the adult or the carefree nature of the child.  That's the kind of emotion the latest album from Donna the Buffalo, Tonight, Tomorrow, and Yesterday, elicits.
This record has a more rural, less polished feeling than their last album Silverlined.  In large part I think it's because they have some down home zydeco and pig roast music, like the opening cut, All Aboard, and I Can Fly further down the playlist.  There's also a full-throttle reggae number, Ms. Parsley, that really grabs your attention, though the country feel is obviously more Caribbean than Louisiana or upstate New York (where the band hails from).  Fear not, though, if you are more in favor of the indie pop sound that seems to be a more recent focus of the band.  Working On That, I Love My Tribe, and One Day At A Time all take you to that happy place.
I think much of what has kept DtB recording and touring for nearly 25 years, and relevant to their fans, The Herd, is the thematic content of their songs.  They make some political and moral statements without ever coming off as preachy.  All Aboard is a reminder to individuals, governments, and companies to do some good in the world, all wrapped in a zydeco stew that doesn't impose its lyrics on you unless you want to listen.  Working On That talks about how the hard things in life are worth any and every effort, " when all god's children are free at last, yeah, we're working on that."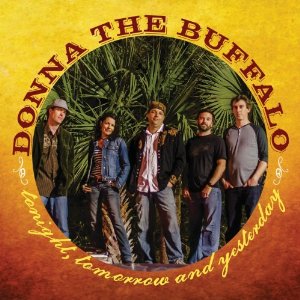 If you're new to Donna the Buffalo, spend some time listening to one of Americana's under-promoted gems.  (If you're a member of The Herd, well, you surely picked this album up already.)  They can brighten up the bluest of days and the addition of a cut or two will improve any party playlist.
---
About the author:
I've actually driven from Tehatchapee to Tonopah. And I've seen Dallas from a DC-9 at night.
---