Every once in awhile, there is an artist whose album is so anticipated by everyone in the Twangville Posse that we all pile on for a team review. Put Jason Isbell's Southeastern in that category.

---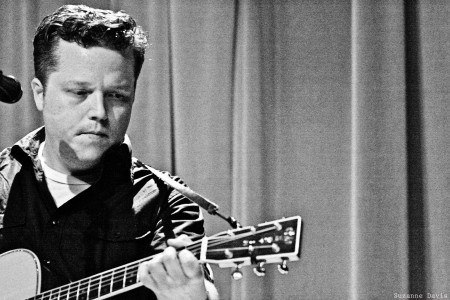 SUZANNE'S TAKE
Sobriety looks good on Jason Isbell. Sounds good, too. I remember watching him in May of 2011, chugging from a bottle of Jack Daniels on stage. After a stint in rehab, losing 40 pounds, and marrying the beautiful singer/ fiddle player Amanda Shires, Isbell is sober and releasing a beautiful and mysterious record with Southeastern.
The album is full of themes such as redemption, sobriety, love, death, and vivid storytelling. It begins with "Cover Me Up," a lovely song seemingly for Shires. With lyrics like, "Girl, leave your boots by the bed we ain't leaving this room/ Til someone needs medical help or the magnolias bloom," it's clear that Isbell has finally found the serenity and love that he has been seeking. "Stockholm" is one of my favorite songs on the album, with a catchy melody and beautiful female harmonies throughout. In "Traveling Alone," Shire adds gorgeous fiddle notes to a song that describes the desire to share life with someone. "I've grown tired of traveling alone, won't you ride with me?" The answer from Shires was clearly yes.
The album takes an interesting turn with songs like "Elephant" and "Live Oak." Isbell tells intriguing stories that leave the listener wondering about them long after they end. "Elephant" is the heartbreaking story about a friend dying from cancer. The lyric, "There's one thing that's real clear to me: No one dies with dignity/ We just try to ignore the elephant somehow" is haunting. In "Live Oak," Isbell describes an old-time gangster, robbing freight trains and killing men. He falls in love, confesses feeling vulnerable, and eventually loses the girl, "carving her cross from live oak and and her box from short-leaf pine" before burying her. When Isbell says, "There's a man who walks beside me he is who I used to be/ And I wonder if she sees him and confuses him with me," it's unclear if he's describing himself or the character.
Intriguing, heart-breaking, and beautiful are words that come to mind when thinking about this album. I found that Southeastern took time to build and grow on me, it wasn't immediate like the previous album Here We Rest. Isbell and Shires are incredibly talented musicians and songwriters, I'm excited to continue hearing the music that they make together.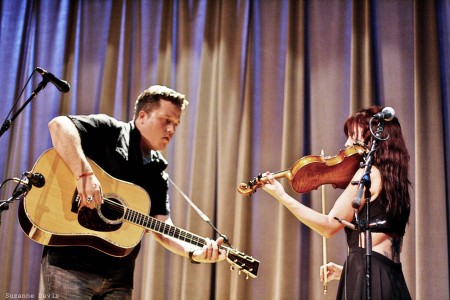 JEFF'S TAKE
While his years with the Drive-By Truckers demonstrated an emerging craftsman, Southeastern shows Isbell in full bloom. His acoustic songs are not just story snippets, they are full-on short stories with cutting details and devastating hooks. The rockers are not only catchy but meaningful. The constant has been Isbell's voice.
For Southeastern, Isbell has kicked out the band and sat down at the desk (or wherever) to write the tunes. The lyrics have the care of an author.
While I didn't think Isbell could top Here We Rest, Isbell took Southeastern in a totally different direction. The songs are less focused on hooks and more growers. The stories are fully formed and affecting. Take "Elephant" for starters. The tune tells the story of a woman cancer, or so it seems "Sharecropper eyes, and the hair almost all gone / When she was drunk, she made cancer jokes." That's the new story song challenge from Isbell. Lyrics that make you come back and try to figure it out. You can tell the song is affecting but you have to go back and tease it apart. He concludes, "There's one thing that's real clear to me: No one dies with dignity / We just try to ignore the elephant somehow, somehow."
Isbell works the stories into the more acoustic tunes and the stories are both difficult and sad but tend to have a resolution. "Relatively Easy" includes several small vignettes and a bit more of an upbeat tempo. After small little pictures of difficult scenes, Isbell ends with "I should say, I keep your picture with me every day / The evenings now are relatively easy / And here with you there's always something to look forward to / My lonely heart beats relatively easy / My lonely heart beats relatively easy." Perhaps his recent relationship and marriage to Amanda Shires has helped him there.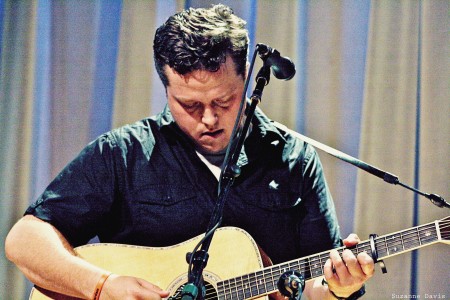 CHIP'S TAKE
Jason Isbell's intention was to make Southeastern a pure singer songwriter project. He even went into the studio without his band The 400 Unit. In the end he couldn't completely stick to that formula, but there is no doubt that Southeastern puts the focus on his songwriter side. There is a personal introspective context to these songs. This vibe is enhanced at times by the fiddle of his wife, Amanda Shires, who also adds backing vocals to "Travelling Alone".  Isbell also enlists the help of veteran singer songwriter Kim Richey to provide vocal backing on "Stockholm" and "Relatively Easy". There has been much written about Isbell's recent sobriety, which seems to be the inspiration for the album. Struggle and brokenness are common themes on the album. No doubt Isbell is referring to his recovery on "New South Wales" with the powerful imagery in the chorus, "God bless the busted boat that brings us back".
Southeastern may be more understated than his prior releases, but Isbell still uses the same characters and allegories that define his songwriting. There are the same broken dreams, dark imagery, and course reality to which longtime fans are accustomed. Though it seems he tried, Isbell couldn't leave the electric guitars in their cases. Two songs "Flying Over Water" and "Super 8" up the tempo considerably. The latter song has even given me a new life goal, which is to have my life end somewhere other than a Super 8 Motel.
Adding Southeastern to his own catalogue plus the songs he wrote in his Drive By Trucker days, it is clear that Jason Isbell has established himself as one of the premier songwriters in the contemporary music scene.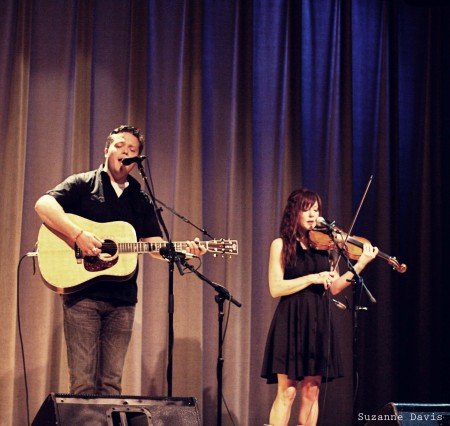 ELI'S TAKE
When he joined the Drive-by Truckers at the tender age of 22, Isbell caught a rising wave and turned it into a tsunami. Blessed with three top tier songwriters, the early years with Isbell found the band bursting at the seams creatively. Where Hood was rueful and Cooley was sly, Isbell's writing was intimate. It captured a more personal, tight-knit picture of the south through songs like "Outfit", "Decoration Day", and "Goddamn Lonely Love". To put it simply, Isbell cut straight to the bone.
When he left the band in 2007 and went solo, the ceiling seemed endless. But the reality didn't quite live up to the expectations, Isbell put out a trio of good, but not great, studio records. I think it's telling that my favorite Isbell solo record is last year's Live From Alabama. Isbell's output with the Truckers was impeccable. His solo records haven't quite reached the level of a Dirty South or a Decoration Day. That is, they hadn't until Southeastern.
Isbell's found something with this record. Southeastern is damn near impeccable. It feels warm and minimalistic, not an instrument or vocal out of place. Unlike past records, Southeastern feels confident and unhurried (ironic since the record was a rush job before his recent marriage to fellow musician Amanda Shires). Whether it's his love life going well (thanks Mrs. Isbell) or his new found sobriety (thanks again), Isbell owns it on this one.
Songs like "Traveling Alone", "Elephant", and "Live Oak" stand up to his most elegiac work. Rockers like "Flying Over Water" and "Super 8" are his most soaring since Sirens of the Ditch. The latter features a protagonist worthy of a Patterson Hood or Todd Snider story song (Note: I also feel like this song is destined to be covered by Hayes Carll, but I can't quite figure out why). I also have a soft spot for "Stockholm", which features the following favorite line of mine "once a wise man to the ways of the world/ now I've traded those lessons for faith in a girl". Good trade Mr. Isbell, good trade.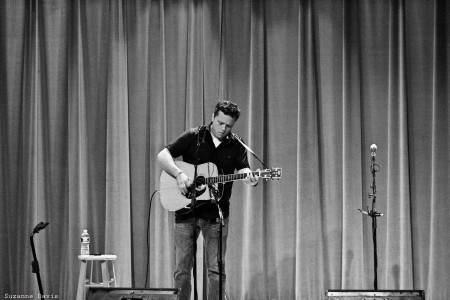 MAYER'S TAKE
The benefit of coordinating the team review is that I get to read everyone else's perspectives as I write my own.  And damn if they haven't already captured many of my feelings about Jason Isbell's latest release.  Rather than repeat their fine points, I'll simply add this:  Southeastern is the sound of an artist hitting stride.
Since his early days with the Drive-By Truckers we've always enjoyed Isbell's storytelling.  Whether the writing was autobiographical  ("Outfit" or the more recent "Alabama Pines") or not ("The Day John Henry Died" or "Tour of Duty"), he has always reeled us in with incisive lyrics and polished melodies.  
What is wonderful about Southeastern is seeing all these early threads come together in a cohesive and compelling song collection.  This is an album of emotional exploration:  confronting darkness in oneself and society, finding love, contemplating life's uncertainties and facing mortality. 
While not necessarily the most uplifting set of topics, Isbell tackles them all with remarkable depth and deftness.  This lyrical elegance is married with musical arrangements that enhance the album's emotional punch.  From the stark instrumentation of "Cover Me Up" to the guitar-driven determination of "Flying Over Water," Isbell and producer Dave Cobb let the song dictate the musical accompaniment. The results are striking.
It's not without some irony that "Super 8" is the song that I keep coming back to at the moment.  It's raucous fervor and jubuliant guitars serve as a respite from the gravity that pervades many of the songs across Southeastern.  But even that is deceiving — the song chronicles a guy who nearly dies from too much drinking and raising hell.   
And then there's "Elephant," a gut-wrenching story about coping with a friend's battle with cancer.  "There's one thing that's real clear to me:  No one dies with dignity," sings Isbell, "We just try to ignore the elephant somehow, somehow." I dare you to listen to the song and not be moved.  
Audio Download: Jason Isbell, "Stockholm"

Audio clip: Adobe Flash Player (version 9 or above) is required to play this audio clip. Download the latest version here. You also need to have JavaScript enabled in your browser.
---
Photos by Suzanne Davis McMahon (
Suzanne Davis Photography
)
---
About the author:
Mild-mannered corporate executive by day, excitable Twangville denizen by night.
---