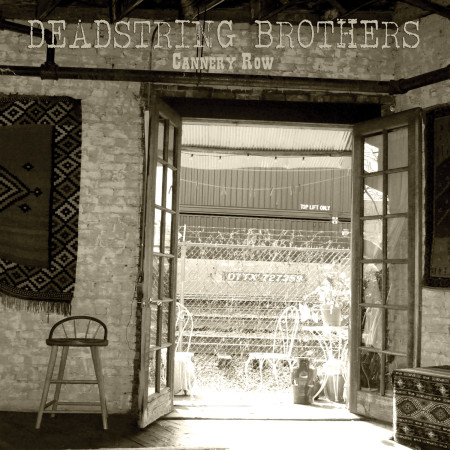 Look. It only took me eleven words to drop in my Exile On Main Street reference. Sorry Kurt Marschke, you ain't never out running that one. The Deadstring Brothers front man and sole surviving member has had his music compared to the golden era of the glimmer twins for so long he probably thinks "Moves Like Jagger" was written to torture him into some deranged state of pyschosis where he is forced to indefinitely re-record Black and Blue for eternity.
But hey, it can't be all bad having your music compared to one of the greatest rock and roll records ever made? Right? Except of course for the most obvious downside, how are you ever going to live up to THAT? The band has given it their best shot and recorded a serious string of good to great albums in the process (their sophomore album, Starving Winter Report, is still the highlight for me), but things went south after 2010's Sao Paulo. The band kind of fell apart and Marschke toured as a solo act for awhile, but I guess the itch for the band never left because here we are three years later with a new Deadstring Brothers record.
Cannery Row is different though. Record after the mini-hiatus and more importantly a move to Nashville, Cannery Row is not the same Deadstring Brothers in dramatic ways. It's still roots rock and Marscke's vocals still lend themselves to Jagger comparisons, but this record sounds more like the Parsons-Richards record that Gram and Keith would have recorded had the former not overdosed on heroin and the latter hadn't tried to do the same for the better part of the 70's. Leadoff track "California Whistle" opens with a sweeping pedal steel and sounds like an outtake from GP or Grievous Angel. In fact California rock seems to be a new theme with Eagles-esque tracks like "Oh Me Oh My" and "Lucille's Honky Tonk". The harmonica that opens "The Mansion" sounds like Neil Young dropped in for some session work.
The record feels different because it exudes an organic warmth that seemed to be missing from past efforts. Whereas in the past the Deadstring Brothers records seemed layered and produced, Cannery Row feels unhurried and natural, almost like the record was recorded in somebody's living room. B-3 organ, piano, pedal steel and harmonica filter in and out of the mix as Marschke delivers some of his more tender sounding vocals in his discography. "Cannery Row" in particular is notable for its country-soul delivery. Makes you wish the late great Levon Helm were around to cover that one.
Marschke doesn't leave the Stones fan hanging though. "Long Lonely Ride" rips off "Dead Flowers" as Marshke sneaks the line "they say I sound like the Stones/ so I gave 'em this song" into the last verse. Other songs flirt with the Stones association, but none more so than that one. It's almost if Marschke had to tip his hat to the critics before moving forward on a path that's no longer pre-ordained. The late-night party records of the past are in his rear-view mirror. Cannery Road is more of a morning after record.
It pairs better with a cup of coffee and a sunrise than it does with PBR and the neon lights.
Courtesy of our friends at Bloodshot Records,
---
About the author:
Specializes in Dead, Drunk, and Nakedness..... Former College Radio DJ and Current Craft Beer Nerd
---