Austin's The True Believers were high on, if not at the top of, my list of bands to see at SXSW. Nearly thirty years ago they established a reputation as a powerhouse rock and roll band. Given that I wasn't attending many rock shows thirty years ago so I was downright giddy at the prospect of seeing the band perform live now that they have reunited.
I caught them twice. First amid the bikes at Mellow Johnny's, Lance Armstrong's bike store, and then at the legendary Continental Club. Both sets were electrifying — the band took no prisoners as they tore through songs from their rich catalog.
Sure, there was on occasional flubbed intro that led Alejandro to quip, "The True Believers are still the same." To me, however, it made the music and performance seem more genuine. Remember what Joe Strummer said, "rock and roll ain't about playing all the right notes." It's great to have you back, boys.
Audio Stream: The True Believers, "Rebel Kind (live)"

Audio clip: Adobe Flash Player (version 9 or above) is required to play this audio clip. Download the latest version here. You also need to have JavaScript enabled in your browser.
---
The Sound City Players/Green Day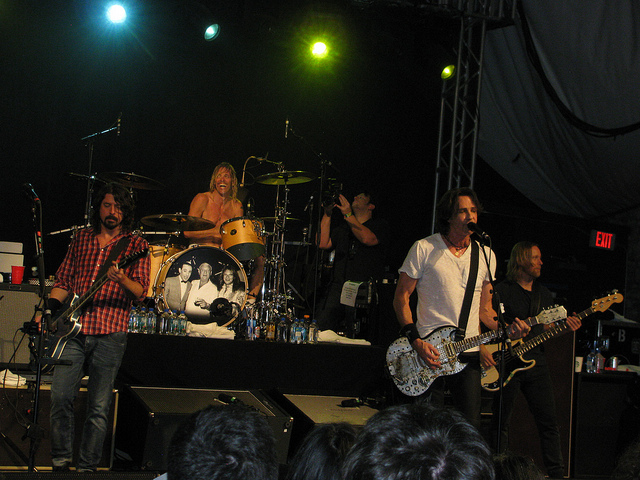 Ok, so I did catch two of the high profile SXSW shows. The Sound City Players were formed to support Dave Grohl's new documentary on the legendary Sound City Studios. Said studio witnessed the birth of many classic albums, including Nirvana's Nevermind.
Grohl's Foo Fighters anchored the Players, joined by special guests ranging from Stevie Nicks to John Fogerty to Rick Springfield. I missed Nicks but Fogerty and Springfield were great fun. It was impossible not to get caught up in the crowd's exuberance as they sang along with Springfield on his classic "Jessie's Girl."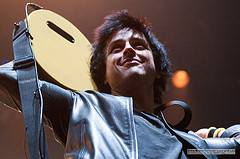 I also caught the tail end of Green Day's extended performance at the ACL Theater. Billie Joe and company were as feisty as ever, although they caught me by surprise with a string of covers that included Otis Day and the Knights' "Shout," Ben E. King's "Stand By Me" and the Beatles "Hey Jude."
A closing one-two punch of "American Idiot" and "Jesus of Suburbia" was particularly potent.
---
If there's one thing that I've learned from seeing Earle over the years, it is that one should think twice before calling out requests. One jackass in the crowd chose to flaunt the rule by shouting out the name of a classic Lynyrd Skynyrd song. Earle made a gesture with his hand and said, "There's your free bird."
While some may not see humor in that exchange, I find it to be one of Earle's endearing qualities. The man is true to himself and his music, a trait that has resulted in a lifetime of outstanding music.
Earle began his set on acoustic guitar as he previewed songs from his forthcoming release. A particularly compelling moment came when he shared the story behind "Invisible," the lead single. The song was inspired by the soup kitchen located in his neighborhood. He hadn't noticed it when he first moved into the area but discovered its existence when the lines of those waiting for food grew long during the recession. Pretty powerful.

Everywhere I go
People pass me by
They never know 'cause I'm
Invisible
A shadow hangin' low
A footstep just behind
They carry on but I'm
Invisible.
Later in the set he switched back and forth from acoustic guitar to mandolin as he dug into his extensive catalog. A highlight was "My Old Friend the Blues," one of my personal favorites, followed by "Someday." It doesn't get much better than hearing those two gems played back-to-back.
---
Part of my pre-SXSW ritual is to sample each of the 1,200 mp3s shared by some of the artists scheduled to appear at official showcases. Yes, I go through all of 'em.
One of this year's discoveries was this impressive two-man band from Boston. They combine the pop sensibility of fun. with the scrappiness of Shovels and Rope. Their songs held up well live, showcasing the duo's personality and musicianship. It was, pardon the pun, a fun set.
Audio Download: You Won't, "Three Car Garage"

Audio clip: Adobe Flash Player (version 9 or above) is required to play this audio clip. Download the latest version here. You also need to have JavaScript enabled in your browser.
---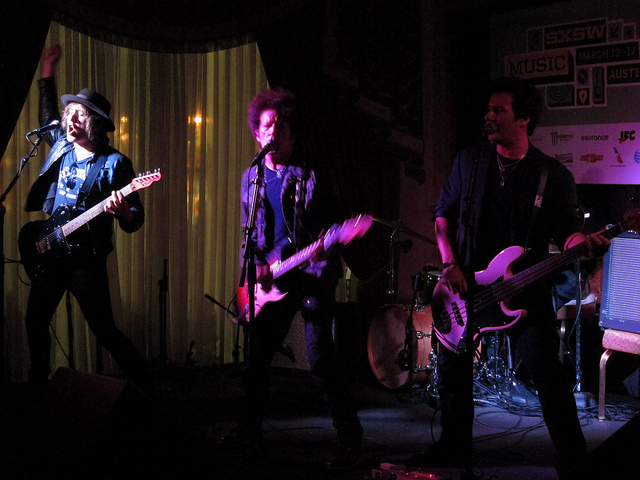 Long-time readers will know that I'm a big fan of Nile's music. The strength of his songwriting is surpassed only by the unbridled passion that he brings to the stage.
What struck me about the two performances that I caught at SXSW was the increased potency of his band. The group has really coalesced as a unit — the band energizing Willie as much as he does them.
And here I thought that his show's couldn't get any more dynamic. I was wrong.
Audio Download: Willie Nile, "Heaven Help the Lonely (live)"

Audio clip: Adobe Flash Player (version 9 or above) is required to play this audio clip. Download the latest version here. You also need to have JavaScript enabled in your browser.
---
Sweany was cursed with a tough time slot and venue – late afternoon in the cavernous lobby of the Omni Hotel. "I appreciate the Omni working with me to create the echo chamber that I requested," he quipped. Jokes aside, it actually worked quite well. His soulful voice and powerful guitar playing reverberated throughout the lobby as he previewed some fine new songs from his forthcoming release.
Audio Download: Patrick Sweany, "Sleeping Bag"

Audio clip: Adobe Flash Player (version 9 or above) is required to play this audio clip. Download the latest version here. You also need to have JavaScript enabled in your browser.
---
I liked Rose's new album as soon as I heard it and the enjoyment has grown with each subsequent listen. I caught Caitlin play a mid-afternoon set on a rooftop and can happily report that the songs were equally satisfying live. Her band included a pedal steel guitar and keyboard who added extra texture to her pop songs. Comically, the stage wasn't big enough to fit the entire band so the keyboardist was left to stand on the ground next to the stage.
Audio Download: Caitlin Rose, "I Was Cruel"

Audio clip: Adobe Flash Player (version 9 or above) is required to play this audio clip. Download the latest version here. You also need to have JavaScript enabled in your browser.
---
Trapper Schoepp and the Shades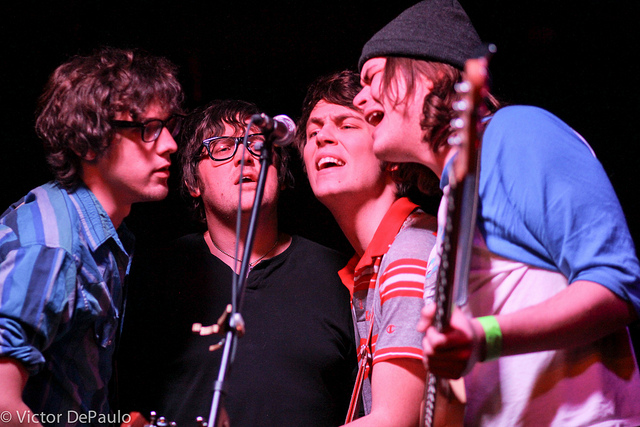 Here's what I wrote in my Fall 2012 Playlist: "Note to self – see these guys in concert the next chance I get, these songs must sound great live."
Done! As I suspected, the songs do sound great live. Trapper and the crew serve up their hearty midwest rock songs with immense enthusiasm.
So when are you coming to Boston, guys? I'm gonna need another fix soon.
Audio Download: Trapper Schoepp and the Shades, "Wishing Well"

Audio clip: Adobe Flash Player (version 9 or above) is required to play this audio clip. Download the latest version here. You also need to have JavaScript enabled in your browser.
---
The band's name sums up their sound nicely. This Philadelphia quintet plays power pop with monster guitar riffs. This was exactly what the doctor ordered to reinvigorate me as I entered hour twelve of a SXSW music day.
---
Canada's Lions in the Street were the perfect end to Saturday night, the last official day of SXSW. Their guitars rang out through the club as they blasted through one rock song after another. After five days of running around Austin, it was the jolt of adrenaline that I needed to ensure a strong finish to my SXSW showcase experience.
Audio Download: Lions in the Street, "Movin Along"

Audio clip: Adobe Flash Player (version 9 or above) is required to play this audio clip. Download the latest version here. You also need to have JavaScript enabled in your browser.
---
Click HERE for more Twangville coverage of SXSW.

Photo credits:  Lavid Photos (The True Believers); Nathan Malone (Rick Springfield and Dave Grohl); Erica Bruce/Between Love and Like (Billie Joe Armstrong); Ewan Spence/SXSW Baby (Willie Nile); Victor DePaulo (Trapper Schoepp and the Shades).
---
About the author:
Mild-mannered corporate executive by day, excitable Twangville denizen by night.
---