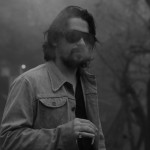 The new Shooter Jennings album "The Other Life" is a conversation starter. Specifically it is a catalyst for two related reflections. The first is family. The second is the current state of the Country Music industry. With Nashville as a hub, these two conversations create a coherent theme.
With respect to family, we see Jennings embracing his bloodlines in a manner that is uncommon for artists who are the progeny of legends. Typically the children of famous entertainers either distance themselves from their parents (often to the point of disdain), or crumble under the weight of their name. To the contrary, Shooter Jennings seems proud of his legacy, and uses his father's dogged independence to give the finger to the current Country Music establishment. On 'Outsider" he compares his outlaw spirit to his father's, "I am the outsider. A horse with no rider". The real stab at the current landscape of Country Music comes on "Outlaw You", on which he taunts , "Hey pretty boy in your baseball hat. You couldn't hit Country with a baseball bat". He also references his father, who in the early 70's "busted down the door" and busted the formula of the Nashville record executives. On the same song, he fast forwards to today as he bemoans that "All these years later the suits got back their grip".
"The Other Life", does not get bogged down in the politics of Country Music History. There is a balanced mix of Outlaw Country and Rock. He also is joined by other singers such as Patty Griffin ("Wild and Lonesome") and Scott H. Biram ("The White Trash Song"). With his own vision of the future and a nod the past, we see Shooter Jennings standing above the crowd as he hits his stride.
---
About the author:
Chip and his family live in Birmingham, AL. Roll Tide!
---